Ad blocker interference detected!
Wikia is a free-to-use site that makes money from advertising. We have a modified experience for viewers using ad blockers

Wikia is not accessible if you've made further modifications. Remove the custom ad blocker rule(s) and the page will load as expected.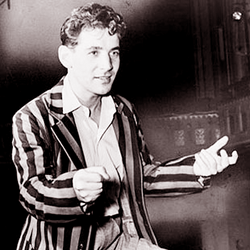 Judd "Jud" Conlon (1910 - July 28, 1966) was born in 1910 in Cuba City, Wisconsin. He later married Clara Manley Conlon and together they had one son, Michael Conlon. For most of his career, Judd was a musical arranger for Walt Disney. Among his credits are the Disney movies So Dear to My Heart (1949), Alice in Wonderland (1951), Peter Pan (1953), and Babes in Toyland (1961).
Filmography
Music Department:
Bobby Darin and Friends (1961) (TV) (music arranger: vocal arrangements)
Screen Directors Playhouse (music arranger: vocal arrangements) (1 episode, 1956)
Prima Donna (1956) TV episode (music arranger: vocal arrangements)
Peter Pan (1953) (vocal arranger) "You Can Fly! You Can Fly! You Can Fly!" (04:03)
Alice in Wonderland (1951) (music arranger: vocal arrangements)
Soundtrack:
It's Always Fair Weather (1955) ("March, March" (uncredited), "The Time for Parting" (uncredited),
"Once Upon a Time" (uncredited), "Why Are We Here?" (uncredited)
Here Comes Elmer (1943) (writer: "Hitch Old Dobbin to the Shay Again")
Self:
Cha-Cha-Cha Boom! (1956) (as The Judd Conlon Group) .... Himself
The Scene Of the Crime (1956) (as the Jud Conlon Singers with Bob Thompson's Orch.)
Live Duets:
"If You Stub Your Toe On The Moon" (1947-1949) Bing Crosby with Judd Conlon's Rhythmaires
"The court jester" (21 – 22 September 1955, Los Angeles) Sylvia Fine – Sammy Cahn With the Judd Conlon Singers
Radio work
"Quanta Le Gusto" Judd Conlon's Rhythmaires, " Stars Began To Fall" Judd Conlon's Rhythmaires, and "You Belong To Me" with Judd Conlon's Rhythmaires (October 30, 1952) With Ken Carpenter (announcer), The John Scott Trotter Orchestra, Judd Conlon's Rhythmaires, and Ziggy Elman CBS Radio, October 30, 1952
External links
Disney Work:
Radio Work:
| | |
| --- | --- |
| | This page uses content from the English Wikipedia. The article or pieces of the original article was at Judd Conlon. The list of authors can be seen in the page history. As with Disney Wiki, the text of Wikipedia is available under the GNU Free Documentation License. |