Journey Into Imagination With Figment
Comment

1
29,222pages on
this wiki
Journey Into Imagination With Figment is the current incarnation of Journey Into Imagination that was introduced as a result of the public outcry against Journey Into Your Imagination, opening on June 2, 2002. Due to popular demand, Figment returned with a larger role, appearing in every show scene. The song "One Little Spark" also returned with new verses.
Premise
Climb aboard your tour tram and get ready for surprises galore as you travel through Dr. Channing's sensory labs. Little ones will love learning and laughing about the 5 senses—sound, sight, smell, touch and taste—on this madcap musical trip with Figment.
The Institute's beleaguered chairman Dr. Nigel Channing (played by Eric Idle) sets out to prove how the 5 senses capture the imagination, but is upstaged by the mischievous Figment, who sabotages the doctor's sound experiment, interferes with the eye chart and causes quite a stink in the Smell Lab.
Then up becomes down as you cruise through Figment's fluorescent, topsy-turvy house and discover that imagination really does work best when set free!
Afterward, be sure to head to ImageWorks--an interactive play area where you can use your imagination to make music, digital pictures and more.
Summary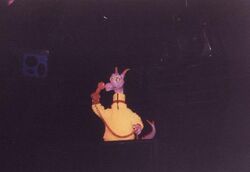 Dr. Nigel Channing
of the Imagination Institute has opened the Institute's doors, inviting guests to a special drive-thru open house that will take them through the five Sensory Labs: Sight, Sound, Smell, Touch and Taste. Figment tags along to Channing's dismay and causes mischief along the way.
In the Sound Lab, Figment interrupts the experiment and comes up with a telephone and the train sound is now a "Train of Thought".
In the Sight Lab, Figment messes with the room's eye chart and begins a sing-along to "One Little Spark".
In the Smell Lab, Figment takes over a giant slot machine-like contraption, becomes a skunk and sprays the guests with the odor.
Channing, after seeing the chaos Figment has been causing, gives up on the tour and Figment takes us to his own open house, which he turns upside down with his carefree mind.
Channing soon learns from Figment that imagination should be set free and we go into the finale with numerous Figments and Channing singing the song together. The guests then disembark the ride vehicles and enter the ImageWorks.
The current ride has received mixed reviews, some saying Figment has become obnoxious and annoying, and they hope for a future rehab to restore Dreamfinder back to the attraction, while others are just glad that Figment is back.