Journal 2, along with 3 and 1, is a novel written by a mysterious author and is part of a series of at least three volumes. Both of the two books have a golden hand with 6 fingers on their covers, with the corresponding volume number in the middle of the palm. They contain research and information about everything supernatural in Gravity Falls. (Volume 2 appears mainly to contain information about magical objects, not unlike a grimoire). It contains a section on the Mystic Amulet, that was formerly possessed by Li'l Gideon. It is unknown who the previous owner was. When Gideon was arrested in "Gideon Rises", he dropped most of his items including 2 and Stan Pines managed to claim it, along with Journal 3.
In "Weirdmageddon Part 1", Bill Cipher seemingly destroys the three journals, but it was later revealed that, following Bill's banishment, Dipper found them unharmed and eventually returned them to Ford. The family decides to throw the Journals into the Bottomless Pit to rid themselves of the trouble caused by them.[1]
Appearance

The appearance of
2
is similar to
3
's appearance. It is burgundy red, three of the corners are gold-colored, and on the spine of the book, there are two gold-colored lines. In the middle of the cover, there is a 6-fingered gold-colored hand like on book 3, but with a large "2" on its palm. It appears to be slightly damaged.
Contents
Demon Caterpillars
Blood rain
Zombie attack
Possession Incantation
Pages and Text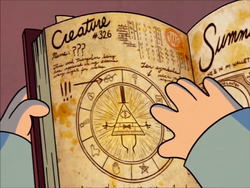 "This odd, triangular being has appeared in my dreams every night for weeks"
"Ten Symbols!"
―Dreamscaperers
Summoning
"He's in my Wallet!"
―Dreamscaperers
Possible Hiding Places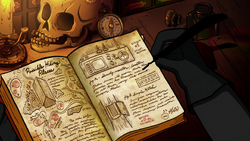 "System #3 patent pending"
―Gideon Rises
"Fig. A system monitor/location. Fig. B Simple Hotel"
―Gideon Rises
"Reset binary sequence. 010111010101000001001011011101111001000100"
―Gideon Rises
"Beware of nesting squirrels!"
―Gideon Rises
Secret of the Journals
In order to properly complete the device, one must possess all three journals. Apparently, the author believed if constructed, the result could be catastrophic, so he made sure the journals were well hidden safe distance from each other, also placing a warning to whomever finds the journal: "TRUST NO ONE!"
But Dipper did not heed its warning, allowing Stan to learn the secret of the journal, who proceeds to activate a powerful artifact.
There are some codes. Down below on the page, there's a binary code, which reads:
"0100101000011010"
Decrypted, it means 'J'. 
There is also a symbol cipher cryptogram: "THE PORTAL WHEN COMPLETED WILL OPEN A GATEWAY TO INFINITE NEW WORLDS AND HERALD A NEW ERA IN MANKIND'S UNDERSTANDING OF THE UNIVERSE. PLUS, IT WILL PROBABLY GET GIRLS TO START TALKING TO ME FINALLY."
Sightings
Season 1
Trivia
The book 2 seems to be less damaged than book 3.
Both 2 and 3 have a page about zombies, as heard in "Little Dipper."
The book 2 contains a maze page that fits in with the maze pages from book 1 and 3.
Gallery
Cite error: <ref> tags exist, but no <references/> tag was found