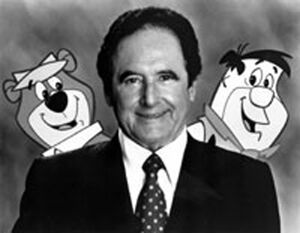 Joseph Barbera
(
March 24
,
1911
-
December 18
,
2006
) was an American animator, director, producer, storyboard artist, and cartoon artist who was a friend of
William Hanna
and
Iwao Takamoto
, He, along with William Hanna, were best-known for the creation of Tom & Jerry at
MGM
and various Hanna-Barbera characters such as Huckleberry Hound, Yogi Bear, Scooby Doo, The Flintstones, etc. Barbera help animate
The Fox and the Hound
with Iwao Takamoto.
Ad blocker interference detected!
Wikia is a free-to-use site that makes money from advertising. We have a modified experience for viewers using ad blockers

Wikia is not accessible if you've made further modifications. Remove the custom ad blocker rule(s) and the page will load as expected.