This article is about the character Jordan from Mighty Med. For other characters, see Jordan (disambiguation).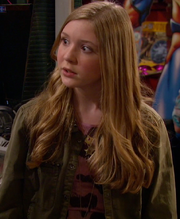 Jordan is a recurring character in the Disney XD show Mighty Med and is portrayed by Cozi Zuehlsdorff.
Jordan is Kaz and Oliver's friend that enjoys playing video games. She doesn't like Gus.
Personality
Edit
She's very into gaming and hates the outdoors. She thinks it's funny when her friends fail. She also puts a lot of trust in Kaz and Oliver. She is also known to hold grudges.
She's terrible at building things but better at tearing things down.
If Jordan didn't get an A for her science project she isn't allowed to play video games for a year.
She hates Gus and think he smells like dead fish.
She hasn't spoken to her sister since January.
She hates Gus so much, she employs lookalike doubles to distract him. (It's Not the End of the World)
She knows about Oliver's crush on Connie/Skylar.