Johnny and the Sprites is an American musical television shows aired for preschoolers.
The show premiered on October 9, 2005 with five 5-minute-long episodes, which continually play on the Disney Channel's programming. However, due to extremely positive audience reaction, the show was renewed for thirteen half-hour shows for 2007.
As of March 23, 2012, Johnny and the Sprites aired reruns on Disney Junior as SOAPnet's replacement.
The show had one album of songs released.
The show is notable for featuring as guests a number of actors/actresses who once performed alongside show star John Tartaglia in the Tony Award-winning play Avenue Q, as well as songs/music written and composed by popular Broadway songwriters and composers, such as Stephen Schwartz. As a friend, Tartaglia shared the idea for the program with Schwartz prior to its creation.[1]
Plot
The show follows main character Johnny (a song writer), as he moves into a house given to him by his great-uncle. There, he discovers little magical creatures simply known as "sprites", who introduce him to their fantasy world. In return, Johnny shows the sprites what it's like to be human, often teaching them (and the viewer) an important life lesson.
Characters
Johnny is a young composer who comes to live in his great uncle's old house to work on his music. He is the star of the show.
Gwen is Johnny's neighbor and best friend. She is always trying something new and often has a different job every time she visits. In season 2, she meets the sprites.
Ginger is a pink and purple air Sprite with a spunky, sporty attitude.
Basil is a green and yellow Earth Sprite that wears glasses. He's very smart and knows a great deal about Sprite history and gardening.
Lily is a blue water Sprite who is able to speak Spanish. She's very in touch with nature. She loves to paint.
Root is the youngest and shyest of the Sprites. Root is a baby Earth Sprite who can get vegetables to grow just by talking to them. Root really looks up to Johnny, who he calls "Nonny."
Sage is the oldest and wisest Sprite of them all. When the younger Sprites need advice or lack knowledge on a topic they often confer with Sage. In the show's first season, Sage seems somewhat feeble and remains rooted to one spot, but he becomes more active and competent int he show's second season.
Seymour is not a Sprite, but a Schmole (a purple, talking mole). He lives in (or rather 'under') Johnny's backyard and has quite the appetite.
Fuzzies (creatures) are small, colorful creatures that live with the Sprites and enjoy hanging out with Johnny. They often do work for the Sprites.
Episodes
Main article: Johnny and the Sprites episode list
International versions
Johnny and the Sprites in English
Johnny und die Sprites in German
Johnny y las hadas in Spanish
Jasiek i Tyćki in Polish
Notes and references
v - e - d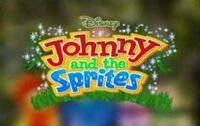 Characters
Johnny • Tina • Gwen • Ginger • Basil • Lily • Root • Sage • Seymour • Fuzzies