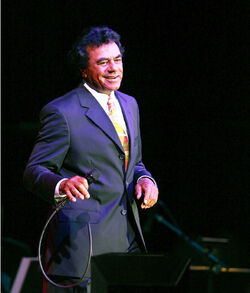 Johnny Mathis (born in Gilmer, Texas, September 30, 1935) is an American singer of popular music. Mathis performed "Never Before, Never Again" with Rowlf the Dog on the 1979 TV special The Muppets Go Hollywood. He performed two Christmas songs on the 1992 special Holiday Greetings from The Ed Sullivan Show, which also featured the Muppets, and made a special cameo appearance in Muppets Tonight episode 212.
Gallery
Ad blocker interference detected!
Wikia is a free-to-use site that makes money from advertising. We have a modified experience for viewers using ad blockers

Wikia is not accessible if you've made further modifications. Remove the custom ad blocker rule(s) and the page will load as expected.