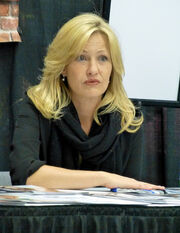 Joey Lauren Adams
(born January 9,
1968
) is an American actress and director.
Her Disney roles include Electra in the Hercules episode Hercules and the Complex Electra, Louanne Winters in the 1993 Touchstone Pictures film The Program, Alyssa Jones in the 1997 Miramax Films film Chasing Amy, Jeniece Papagus in the ABC Family TV show Switched at Birth, Alyssa Jones in Jay and Silent Bob Strike Back and Dr. Tracy McConnell in the ABC TV show Grey's Anatomy.
Ad blocker interference detected!
Wikia is a free-to-use site that makes money from advertising. We have a modified experience for viewers using ad blockers

Wikia is not accessible if you've made further modifications. Remove the custom ad blocker rule(s) and the page will load as expected.