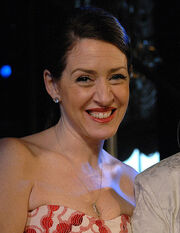 Joely Fisher (born October 29, 1967) is an American actress.
For Disney, she played Bambi in the Blossom episode "Tough Love", Brenda Bradford and RoboBrenda in Inspector Gadget, Nina Fletcher in Desperate Housewives, Paige Clark in the ABC TV show Ellen and Meg Robinson in the Wizards of Waverly Place episode "Alex the Puppetmaster".
She is also the younger half sister of Carrie Fisher.