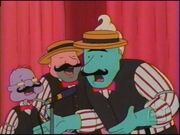 Joe​ Valentine
(Voiced by
Billy West
in the Nickelodeon series and by Fred Newman in the Disney series):
Skeeter
and Dale's father. Has a tendency to have short-term memory loss. He also has a foul temper, normally trying to count on himself, but he always skips to 10 after getting to 2, and normally turning beet red when angered (Mostly at
Doug
and Skeeter).
Trivia
Joe may actually have dementia judging by his short temper and short term memory loss.
Gallery
Ad blocker interference detected!
Wikia is a free-to-use site that makes money from advertising. We have a modified experience for viewers using ad blockers

Wikia is not accessible if you've made further modifications. Remove the custom ad blocker rule(s) and the page will load as expected.