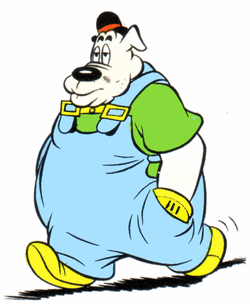 Joe Piper is a comic character created by Merrill De Maris and Floyd Gottfredson for the 1938 Mickey Mouse daily strips, specifically The Plumber's Helper (better known as the first appearance of Detective Casey), and later re-used by Italian writers in several other stories.
History
Joe Piper uses his job as a plumber to hide his robberies. He is a calm character, with a seemingly stoic expression, but it hides his determination and meanness. He actually likes his plumbing job and hopes to commit some big crime to retire and dedicate the rest of his life to plumbing just for love to the art. He also likes theather and is a good actor, an ability he uses to cover his crimes.
Ad blocker interference detected!
Wikia is a free-to-use site that makes money from advertising. We have a modified experience for viewers using ad blockers

Wikia is not accessible if you've made further modifications. Remove the custom ad blocker rule(s) and the page will load as expected.