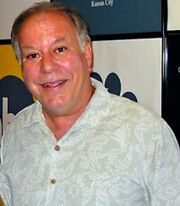 Joe Leahy
is a voice actor known for roles in animated programs such as
Batman: The Animated Series
,
Animaniacs
,
Freakazoid
and
Transformers
.
For Disney, he provided the voice of the Ghost Host in The Haunted Mansion for new safety spiels that were implemented in the attraction in the early 2000's when Corey Burton refused to do them.
Ad blocker interference detected!
Wikia is a free-to-use site that makes money from advertising. We have a modified experience for viewers using ad blockers

Wikia is not accessible if you've made further modifications. Remove the custom ad blocker rule(s) and the page will load as expected.