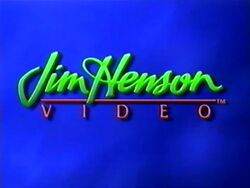 Jim Henson Video was a video label distributed by Buena Vista Home Video, which released a variety of Jim Henson productions on video from 1993 to 1996. The distribution deal was first announced on December 19, 1991.
Though a special "Jim Henson Video" logo card was used in the various advertisements for its releases, it was rarely used in the video releases. Instead, nearly every Jim Henson Video release began with the "Jim Henson Productions" logo sequence that was introduced in The Muppet Christmas Carol.
Video releases included re-releases of past productions, new-to-video productions, releases of episodes of television series and a few compilation videos.
Releases of productions now owned by Disney
The Muppet Movie (January 29, 1993)
The Great Muppet Caper (January 29, 1993)
It's the Muppets: Meet the Muppets (January 29, 1993)
It's the Muppets: More Muppets, Please (January 29, 1993)
Muppet Babies: Explore with Us (January 29, 1993)
Muppet Babies: Let's Build (January 29, 1993)
Muppet Babies: Time to Play (January 29, 1993)
The Tale of the Bunny Picnic (January 29, 1993)
The Muppet Christmas Carol (November 5, 1993)
The Frog Prince (January 1994)
Hey, Cinderella! (January 1994)
Muppet Sing Alongs: It's Not Easy Being Green (February 8, 1994)
The Muppet Show: Monster Laughs with Vincent Price (August 1994)
Muppet Classic Theater (September 27, 1994)
Muppets on Wheels (1995)
A Muppet Family Christmas (1995)
Muppet Sing Alongs: Muppet Treasure Island (February 14, 1996)
Muppet Sing Alongs: Things That Fly (February 14, 1996)
Muppet Treasure Island (September 10, 1996)
Gallery