"It must be so cool to be in the circus."
―Isabella Garcia-Shapiro
"Jerk De Soleil" is the first half of the eighth episode of Phineas and Ferb. It aired on February 10, 2008.
The boys create a circus for the neighborhood after their original circus plans are canceled, while Jeremy gives Candace wild parsnips which she is allergic to. Doofenshmirtz creates a device to make people's voices higher so his own voice will seem lower but instead, it gets even higher than it originally was.
Synopsis
Phineas and Ferb's dad, Lawrence, is planning to take the boys and their friends to Cirque du Lune. However, shortly after Baljeet arrives, Lawrence reads in the morning paper that the cirque is cancelled. It seems the lead of the show has had a severe allergic reaction and cannot perform. Their mother is sympathetic to the lead of the show, because she knows how bad allergies are. Candace has a horrible allergy to wild parsnips. She is also excited because this means her husband is free to be at the Googolplex Mall when her jazz trio records its first album, Live at the Squat and Stitch.
When Isabella muses that it must be fun to be in the circus, Phineas knows what they're going to do that day. They'll make a backyard cirque and each have a part of the act. Ferb can set up the tent, Phineas will be the ringmaster, Isabella and the Fireside Girls can sew up the costumes, and Perry will have an act as "The Amazing Perry". Baljeet, Django, and Buford will round out the cirque. They all have talents. Baljeet can remove his finger and hold it in his hand, with no injuries. Django can lift his leg over his head, but currently not very skilled (succeeding only in pulling off his shoe and sock). Buford's talent is to bounce to the heavens and land in mud.
The tent very quickly rises in the backyard and everyone has their costumes already, including Perry, who has disappeared for his assignment from Major Monogram still in costume. Major Monogram is very amused by Agent P's costume and starts laughing at Perry. Not wanting to listen to it, Perry leaves for his mission, but Major Monogram convinces him to turn around one last time and he snaps a picture of the platypus.
In the backyard, Buford arrives with his props. He will be flying through the air with a paper bag on his head into mud. Candace walks back to the tent to see what's going on and reluctantly calls Linda when she hears an elephant. Linda blows her off since she's recording and Candace gets even more frustrated. She is showing this frustration when Jeremy shows up with a basket of vegetables from his mother's garden. These just happen to be wild parsnips. Starting to get red and blotchy and her voice getting funny, Jeremy asks her to sit with him at the cirque.
Meanwhile at Doofenshmirtz Evil Incorporated, Dr. Doofenshmirtz is using a self-help tape to try and become more assertive. He hates his high squeaky voice and wants to make it lower. However, the tape isn't working out so well. Perry bursts through the ceiling and the evil doctor quickly traps him. Doofenshmirtz then reveals the Voice-inator. It bio-mechanically transforms regular air into Doofelium. It will make everyone else's voice higher, making his voice lower by comparison. It was too much trouble making his own voice lower. Meanwhile, Perry escapes from Doofenshmirtz Evil Incorporated, and uses his copter to follow him. He flies over the circus and hears his act being announced and swoops down to show up to the act.
Baljeet is performing his act: pretending to separate his thumb from his hand. Perry's act is up next: Ferb drops him onto a trampoline; he bounces through a hoop, and into a shallow pool. When this is over, he changes back into his hat and hops onto his copter to find Doofenshmirtz. With no more allergy pills, Candace puts a paper bag over her head. Her voice has already become deep. She arrives at the Squat and Stitch where Linda and her trio is performing, complaining about her brothers in musical fashion by singing E.V.I.L. B.O.Y.S. After that, Candace returns to the cirque to sit with Jeremy just as the "Flying through the air with a paper head bag" act comes on. Since Candace wore a paper bag and a jogging suit, she is mistaken for Buford (They both wore the same clothes), and is shot out of the tent instead of Buford, but Buford jumps into the mud to get the glory, which makes Phineas wonder how Buford got there so quickly.
Back to the Doctor, he and Perry still fight. He breaks the controller, which lands in the boys' cirque during the whole cast part which makes the cast members' voices higher. After the performance, the cheering was high because of the Voice-inator and blows the tent off, hitting the Voice-inator and make Doofenshmirtz's voice even higher. In the end, Candace finally makes it back to the house. Jeremy picks her up, and asks how she got her voice so deep for her E.V.I.L. B.O.Y.S. song. Candace said that she got her voice the same way all other blues singers do: wild parsnips.
Songs
Gallery
Video releases
DVD
Phineas and Ferb: The Daze of Summer
Background Information
Perry's food bowl was black, but it was red in "Oh, There You Are, Perry".
This is one of the more impossible Big Ideas of Phineas and Ferb: In the Grand Finale, Phineas and Ferb appear in four different places at the same time as the their human pyramid is revealed. In fact, for less than a second you can see two copies of them in the same shot at the same time. Django and the Fireside Girls also appear in more than one place in the pyramid. If any of them had moved from their original positions, the pyramid would have fallen over.
"Cirque du Lune" is French for "Circus of the Moon". This is a play-on of "Cirque de Soleil", French for "Circus of the Sun".
This is the second time Phineas and Ferb deliberately clean-up. However, the net flew away, whilst the rest was cleaned up by Ferb (he pulled a lever, hiding the audience seats underground).
This episode marks the first time that Perry gets involved in both his mission and Phineas and Ferb's Big Idea at the same time.
First time Isabella wears a ponytail.
The first time that Candace does not wear her regular outfit.
In Dr. Doofenshhmirtz's lair, you can see a triforce on the wall.
This episode appeared to take place after the future episodes "It's About Time!" and "Tree to Get Ready" as the events were mentioned in the song.
The boys deliberately cleaned up after their invention like in Lawn Gnome Beach Party of Terror
Mindy (the girl who flirted with Jeremy) appears again in "Hail Doofania!".
This is the first time Isabella reads the newspaper. She would read it again in "Phineas and Ferb Christmas Vacation!" and "The Beak".
Phineas's regular voice for the rest of the series is more noticeable starting this episode, though Ferb and Isabella's voices still remain intact for the season.
Vivian Garcia-Shapiro appears again ("The Fast and the Phineas").
The character model for the mummy also appears in the title sequence, accompanying the line "fighting a mummy".
The face that Doofenshmirtz paints on Perry's bubble is the same one that Phineas paints on Candace's portrait in the title sequence at "driving our sister insane".
Second time none of the setting is at the Flynn-Fletcher House ("The Magnificent Few").
The cowboy that sung "On the Trail" in "The Magnificent Few" can be seen in this episode as a movie poster.
Production Information
Episode description from the original Phineas and Ferbruary 2008 press release:
In "Jerk De Soleil," airing Sunday, Ferb-ruary 10, Phineas and Ferb produce their own backyard traveling acrobatic cirque, enlisting all the neighborhood kids, even Buford. Candace tries to stop them but is sidetracked by an allergic reaction to parsnips that turns her into a deep-voiced blues singer and, as it turns out, the highlight of her brothers' backyard show. Meanwhile, Dr. Doofenshmirtz deploys his Voice-inator invention to make everyone's voice higher so that his sounds better.
First episode that Django Brown speaks.
When this episode is broadcast alone, the end credits' video is the last verse of E.V.I.L. B.O.Y.S., when it is broadcast with "Toy to the World", it has the Toy to the World end credits.
Errors
Baljeet's eyebrows disappeared when he said "I am here and ready to go to the world-famous Cirque du Lune".
When we first see Candace in bed she is wearing her normal clothes, but in the next scene she is wearing her pajamas.
Jeremy tells Candace the vegetables are home grown, but later he said they were wild parsnips.
Right after the titles fade away, when Phineas blinks, the wall behind the top of his left eye is visible.
Jeremy was sitting next to Mindy but when we were looking at Candace's view a random guy was sitting next to him.
During the song E.V.I.L. B.O.Y.S., Candace sings events that happened after this episode. (Dan Povenmire Correspondence)
Candace eats cereal with milk on it even though she is lactosentolerent though it might be soy or rice milk.
Linda's guitar is obviously a bass (identified by four strings and knobs).
After Linda switches from organ to electric guitar, the organ can still be heard playing in the background.
Doofenshmirtz's Voice-Inator temporarily made everyone else's voice higher, and he said that the machine releases Doofelium into the atmosphere. This means it might cut off all the oxygen, but everyone else was still able to breathe.
Continuity
Allusions
Title - The name of this episode is derived from the famous Cirque du Soleil.
Cool Runnings - Baljeet's line "Feel the rhythm, feel the rhyme, come on thumb, it's healing time!" is derived from the line "Feel the rhythm, feel the rhyme" from the 1993 movie.
Alvin and the Chipmunks - When Dr. Doofenshmirtz uses his The Voice-inator after Candace flies away and Perry rushes to the circus, Phineas speaks like The Chipmunks.
The Legend of Zelda - In Doofenshirtz's lair you can see an image of a red triforce.
Adventures in Babysitting - Candace singing about her troubles with Phineas and Ferb is exactly what Chris Parker does when she and the kids try to run away from the bad guys.
Indiana Jones - When Perry escapes from Doofensmirtz Trap he slides his hat like Indiana Jones.
Cast
♦

designates a character that did not appear in this episode
v - e - d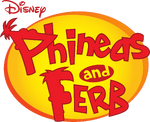 Episodes
Season One: "Rollercoaster" • "Candace Loses Her Head" • "The Fast and the Phineas" • "Lawn Gnome Beach Party of Terror" • "The Magnificent Few" • "S'Winter" • "Are You My Mummy?" • "Flop Starz" • "Raging Bully" • "Lights, Candace, Action!" • "Get That Bigfoot Outta My Face!" • "Tree to Get Ready" • "It's About Time!" • "Jerk De Soleil" • "Toy to the World" • "One Good Scare Ought to Do It!" • "A Hard Day's Knight" • "I, Brobot" • "Mom's Birthday" • "Journey to the Center of Candace" • "Run Away Runway" • "I Scream, You Scream" • "It's a Mud, Mud, Mud, Mud World" • "The Ballad of Badbeard" • "Dude, We're Getting the Band Back Together" • "Ready for the Bettys" • "The Flying Fishmonger" • "Phineas and Ferb Get Busted!" • "Greece Lightning" • "Leave the Busting to Us!" • "Crack That Whip" • "The Best Lazy Day Ever" • "Boyfriend From 27,000 B.C." • "Voyage to the Bottom of Buford" • "Put That Putter Away" • "Does This Duckbill Make Me Look Fat?" • "Traffic Cam Caper" • "Bowl-R-Ama Drama" • "The Monster of Phineas-n-Ferbenstein" • "Oil on Candace" • "Unfair Science Fair" • "Unfair Science Fair Redux (Another Story)" • "Out to Launch" • "Got Game?" • "Comet Kermillian" • "Out of Toon" • "Hail Doofania!"


Season Two: "The Lake Nose Monster" • "Interview With a Platypus" • "Tip of the Day" • "Attack of the 50 Foot Sister" • "Backyard Aquarium" • "Day of the Living Gelatin" • "Elementary My Dear Stacy" • "Don't Even Blink" • "Chez Platypus" • "Perry Lays an Egg" • "Gaming the System" • "The Chronicles of Meap" • "Thaddeus and Thor" • "De Plane! De Plane!" • "Let's Take a Quiz" • "At the Car Wash" • "Oh, There You Are, Perry" • "Swiss Family Phineas" • "Hide and Seek" • "That Sinking Feeling" • "The Baljeatles" • "Vanessassary Roughness" • "No More Bunny Business" • "Spa Day" • "Phineas and Ferb's Quantum Boogaloo" • "Phineas and Ferb Musical Cliptastic Countdown" • "Bubble Boys" • "Isabella and the Temple of Sap" • "Cheer Up Candace" • "Fireside Girl Jamboree" • "The Bully Code" • "Finding Mary McGuffin" • "Picture This" • "Nerdy Dancin'" • "What Do It Do?" • "Atlantis" • "Phineas and Ferb Christmas Vacation!" • "Just Passing Through" • "Candace's Big Day" • "I Was a Middle Aged Robot" • "Suddenly Suzy" • "Undercover Carl" • "Hip Hip Parade" • "Invasion of the Ferb Snatchers" • "Ain't No Kiddie Ride" • "Not Phineas and Ferb" • "Phineas and Ferb-Busters!" • "The Lizard Whisperer" • "Robot Rodeo" • "The Beak" • "She's the Mayor" • "The Lemonade Stand" • "Phineas and Ferb Hawaiian Vacation" • "Summer Belongs to You!" • "Nerds of a Feather" • "Wizard of Odd" • "We Call it Maze" • "Ladies and Gentlemen, Meet Max Modem!" • "The Secret of Success" • "The Doof Side of the Moon" • "Split Personality" • "Brain Drain" • "Rollercoaster: The Musical!" • "Make Play" • "Candace Gets Busted"
Season Three: "The Great Indoors" • "Canderemy" • "Run, Candace, Run" • "Last Train to Bustville" • "Phineas' Birthday Clip-O-Rama!" • "The Belly of the Beast" • "Moon Farm" • "Ask a Foolish Question" • "Misperceived Monotreme" • "Candace Disconnected" • "Magic Carpet Ride" • "Bad Hair Day" • "Meatloaf Surprise" • "Phineas and Ferb Interrupted" • "A Real Boy" • "Mommy Can You Hear Me?" • "Road Trip" • "Tour de Ferb" • "Skiddley Whiffers" • "My Fair Goalie" • "Bullseye!" • "That's the Spirit" • "The Curse of Candace" • "Escape from Phineas Tower" • "Lotsa Latkes" • "Ferb Latin" • "A Phineas and Ferb Family Christmas" • "Tri-Stone Area" • "Doof Dynasty" • "Excaliferb" • "Phineas and Ferb and the Temple of Juatchadoon" • "Monster from the Id" • "Gi-Ants" • "The Remains of the Platypus" • "Mom's in the House" • "Perry the Actorpus" • "Let's Bounce" • "Bully Bromance Break Up" • "Quietest Day Ever" • "Doonkleberry Imperative" • "Meapless in Seattle" • "Delivery of Destiny" • "Buford Confidential" • "The Mom Attractor" • "Cranius Maximus" • "Agent Doof" • "Minor Monogram" • "What a Croc!" • "Sleepwalk Surprise" • "Sci-Fi Pie Fly" • "Sipping with the Enemy" • "Tri-State Treasure: Boot of Secrets" • "Doofapus" • "Norm Unleashed" • "Where's Perry?" • "Ferb TV" • "When Worlds Collide" • "What'd I Miss?" • "Road to Danville" • "This is Your Backstory" • "Blackout!"
Season Four: "For Your Ice Only " • "Happy New Year!" • "Fly On the Wall" • "Bully Bust" • "My Sweet Ride" • "Der Kinderlumper" • "Sidetracked" • "Primal Perry" • "Mind Share" • "Backyard Hodge Podge" • "Bee Day" • "Bee Story" • "Great Balls of Water" • "Where's Pinky?" • "Phineas and Ferb Musical Cliptastic Countdown Hosted by Kelly Osbourne" • "Knot My Problem" • "Just Desserts" • "La Candace-Cabra" • "Happy Birthday, Isabella" • "Love at First Byte" • "One Good Turn" • "Mission Marvel" • "Thanks But No Thanks" • "Troy Story" • "Druselsteinoween" • "Terrifying Tri-State Trilogy of Terror" • "Face Your Fear" • "Cheers for Fears" • "Steampunx" • "Just Our Luck" • "Return Policy" • "Live and Let Drive" • "Phineas and Ferb Save Summer" • "Father's Day" • "Imperfect Storm" • "The Return of the Rogue Rabbit" • "It's No Picnic" • "The Klimpaloon Ultimatum" • "Operation Crumb Cake" • "Mandace" • "Phineas and Ferb: Star Wars" • "Lost in Danville" • "The Inator Method" • "Night of the Living Pharmacists" • "Tales from the Resistance: Back to the 2nd Dimension" • "Doof 101" • "Act Your Age" • "Last Day of Summer" • "O.W.C.A. Files"