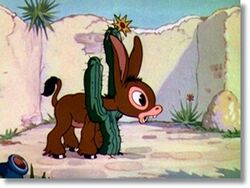 Jenny the Burro is a small burro which Donald rides in on to seduce Donna Duck (Daisy in her first appearance) later to be ignominiously replaced by an automobile in the 1937 animated short, Don Donald. She also appeared in the 1942 animated shorts, The Village Smithy and Donald's Gold Mine.
Gallery
Ad blocker interference detected!
Wikia is a free-to-use site that makes money from advertising. We have a modified experience for viewers using ad blockers

Wikia is not accessible if you've made further modifications. Remove the custom ad blocker rule(s) and the page will load as expected.