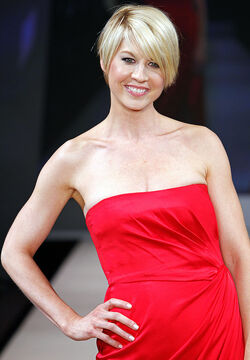 Jennifer Mary "Jenna" Elfman (born September 30, 1971) is an American television and film actress.
For Disney she played Tanya in the 1997 Hollywood Pictures film Grosse Pointe Blank, Professor Veronica Micelli in the 1998 Touchstone Pictures film Krippendorf's Tribe Alex Rose in the ABC TV show Courting Alex, Lizzie Jones-Baker in the ABC TV show Brothers & Sisters and Anna Reilly in the 2000 Touchstone Pictures film Keeping the Faith. She also voiced Mom's Maya in Special Agent Oso. She will play Alice in the ABC TV show Imaginary Mary.
Ad blocker interference detected!
Wikia is a free-to-use site that makes money from advertising. We have a modified experience for viewers using ad blockers

Wikia is not accessible if you've made further modifications. Remove the custom ad blocker rule(s) and the page will load as expected.