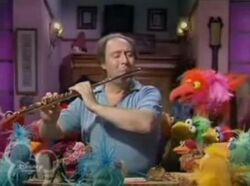 Jean-Pierre Rampal (January 7, 1922 – May 20, 2000) was a French flautist. He has been personally "credited with returning to the flute the popularity as a solo classical instrument it had not held since the 18th century."
His only role in a Disney production to date was a guest appearance on The Muppet Show in episode 510.
Ad blocker interference detected!
Wikia is a free-to-use site that makes money from advertising. We have a modified experience for viewers using ad blockers

Wikia is not accessible if you've made further modifications. Remove the custom ad blocker rule(s) and the page will load as expected.