Janie Diggety
Comment

1
19,095pages on
this wiki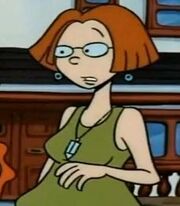 Janie Diggety (voiced by Susan Tolsky) is the beautiful sister of Lydia Pearson and aunt to Pepper Ann and Moose Pearson. She is an ex-Green Beret. Her role in the series is giving Pepper Ann support and helping her solve her problems.
In "Cold Feet" we learn that her name was suppose Lanie but because Lilian was given so much epidural after the birth she spelled the "L" backwards and decide to keep the name

Also if it wasn't for the fact Janie was about to be born, she and Lilian would have been killed in the

Buddy Holly plane crash.

In ​

"The Way They Were" we found out that it was Janie who made Pepper Ann a big fan of Fuzzy.