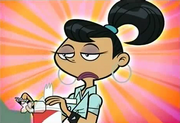 Janelle is a cashier at the Mellow*Mart, from the show Kick Buttowski: Suburban Daredevil. Her first and only speaking appearance is in "Fistful of Ice Cream," where Brad starts flirting with her. Like Penelope Patterson, she is commonly as a background character after her debut appearance.
Description
She has black hair pulled up into a ponytail, black eyes, and wears a blue blouse, which is the MellowMart uniform.
Ad blocker interference detected!
Wikia is a free-to-use site that makes money from advertising. We have a modified experience for viewers using ad blockers

Wikia is not accessible if you've made further modifications. Remove the custom ad blocker rule(s) and the page will load as expected.