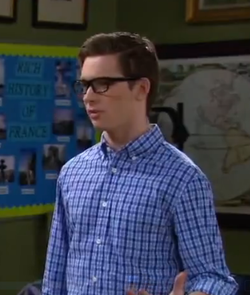 James is a character and antagonist in Shake It Up. He is a student at John Hughes High School. He's in CeCe Jones' history class ("Brain It Up"). He and CeCe dated, but broke up in "Psych It Up".
Appearances
Trivia
At first, James did not like CeCe but when he found out that she is actually smart he learned to like her.
James and Cece go out on a date ("Opposites Attract It Up"). The second date ends well for both when they come to realize that they were trying to impress one another. James, due to Ty's guidance, attempts to act "cool." This results in him wearing skinny jeans and ditching his nerd attire.
James and CeCe broke up in "Psych It Up".