Jake and the Never Land Pirates
Comments

5
19,063pages on
this wiki
Jake and the Never Land Pirates
248px
Created by:
Bobs Gannaway
Opening theme:
"Yo Ho, let's go!"
No. of seasons:
2 (3 ordered)
No. of episodes:
41 (all but one 2 11-minute episodes, one 48 minute episode)
Original channel:
Disney Junior
First aired:
February 14, 2011
Status:
Returning series
Jake and the Never Land Pirates is a musical animated Disney Junior show based on the successful Disney franchise, Peter Pan. It is the first Disney Junior original show following the switch from Playhouse Disney. It stars Colin Ford, Madison Pettis, Jonathan Morgan Heit, David Arquette, Corey Burton and Jeff Bennett. The show quickly became Disney Junior's most popular series surpassing Handy Manny, Special Agent Oso and even Mickey Mouse Clubhouse.
In November of 2011, Disney announced a one hour prime time special for the show to air February 13, 2012 entitled Jake and the Never Land Pirates: Peter Pan Returns. A second season was also ordered for the series and will begin airing February 20, 2012. The third season was announced for renewal on February 13, 2012, which will debut in 2013. Also, a line of items, such as party supplies, apparel, room decor, plush, role play and accessories, and action-oriented play sets and figures, including a boat of Bucky, Jake's Pirate Ship, are planned for a summer 2012 rollout.
Recently, Disney announced a full-length film in development. So far, all that is known is the fact that the film will center around a race against Bucky and The Jolly Roger and it is set to air Fall 2012.
Premise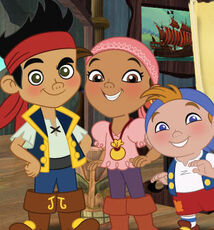 The show revolves around a group of three children (two boys and a girl) who are pirates in Never Land (vs. Peter Pan's Neverland), looking for treasure. Their main obstacle is
Captain Hook
, Smee, and Tick-Tock the Crocodile from Disney's
Peter Pan
franchise. Captain Hook usually sees Jake and his crew doing something fun and steals it from them, and Jake and his crew have to get it back. After they succeed, Jake and his crew count their gold doubloons (which they receive after solving each "pirate problem").
Each program contains two eleven minute animated episodes (except for Jake and the Never Land Pirates: Peter Pan Returns), followed by a live-action song by the Never Land Pirate Band. The singing characters "Bones" and "Sharky" appear in both animated and live action forms.
Cast Thoughts
Colin Ford (Jake): "'Jake and the Never Land Pirates'" is a really great show because it incorporates a lot of things that children should know from an early age, like sharing, teamwork and responsibility. What attracted me to 'Jake and the Never Land Pirates' was the Peter Pan factor. Also, the fact that I'm the leader and I have my crew, Izzy and Cubby, behind me. It's always fun to get to work with my friends."
Ariel Winter (Marina): "I play Marina and I'm a mermaid. I help out the pirates in all their water duties … I help them with anything they need, I care for them, and I do whatever helps Jake and his friends. We're basically one big pirate family. I think Marina may have a little crush on Jake. I've seen that a bit throughout the script. She's always there to help him in her sweetest voice… 'Jake and the Never Land Pirates' is basically about teaching kids to go for it. Even if you have to fight off evil to get what you want or get what you need or to help someone, you should always share, be kind, and do what you can to help."
David Arquette (Skully): "There are a lot of shows out there that are all over the place. You can't really follow them, and they're a little loud. This one has a real story and it's very easy to follow, and it's a lot of fun. It's really colorful. It's got a great heart, and the kids will learn something in the process. You could talk with them about the adventure they just had. It all has to do with social skills and being nice to your neighbor and being a good friend. I watched the first one with my daughter Coco before Skully was in it. She liked it a lot, but she also said that parrot should talk because he was in it briefly, but he didn't really have a voice. I said, 'That's funny you say that, because that parrot is going to talk. That parrot will have your daddy's voice.' That's pretty much how it went down. She loved it!"
Cast/Characters
Main characters
Voiced by Colin Ford (Season 1), Cameron Boyce (Season 2)
Jake is the main protagonist of the series and leader of the Never Land Pirates. He has a wooden sword, created from the Forever Tree which was made and given to him by Peter Pan, and serves as Captain Hook's main pirate rival.
Voiced by Madison Pettis
Izzy is the only girl pirate in the group. She has a small sack of pixie dust, which was given to her by the fairies (Tinker Bell and her friends). The team only uses the pixie dust for emergencies. However, there had been episodes whe pixie dust is not used at all. Her catchphrase is "Yay, hey, no way!"
Voiced by Jonathan Morgan Heit
Cubby is the youngest of the group with his catchphrase ,"Aw, coconuts!" He has the map of Never Land, and is not a member of the "Lost Boys", despite the fact he physically resembles the Cubby of the group.
Voiced by David Arquette (animated speaking)/Loren Hospkins (singing)
Skully is a small, green parrot who acts like a guardian to the team. He keeps a lookout for Captain Hook and Mr. Smee.
Voiced by Corey Burton
Captain Hook is Neverland's resident pirate captain and the main antagonist of the series. Commander of the galleon "The Jolly Roger" and legendary for his cruelty to his enemies as well as his own men, Hook has trouble holding onto a permanent crew. In fact at the moment, he holds only three crew members. Hook is seen to be completely hopeless without the constant aid of Mr. Smee.
Voiced by Jeff Bennett
Mr. Smee is Captain Hook's "left-hand man", first mate, and the secondary antagonist of the series.
Voiced by Loren Hoskins and Kevin Hendrickson (singing)/Jeff Bennett (animated speaking)
Sharky and Bones are members of Captain Hook's pirate crew. They usually spend time performing musical numbers rather than advancing the plot, acting as troubadours. The duo, who specialize in a music from called "Pirate Rock", were asked by Disney to write the music and lyrics for all the songs for the show.
Voiced by Ariel Winter
A young mermaid who lives in the ocean around Never Land with the rest of her people. Unlike other young female merfolk, who tend to be snobbish, selfish, vain and downright cruel, Marina is gentle and kind to the young pirates. She often shows them the secrets of the NeverSea she finds. It is hinted that she has a crush on Jake. [1]
Voiced by Dee Bradley Baker
The very same crocodile that devoured Hook's left hand after Peter Pan cut it off in a sword fight some years ago. Tick-Tock loved the taste of Hook's hand so well, he has followed the Jolly Roger ever since, licking his chops as he imagines the rest of his meal. And he also swallowed an alarm clock to goes tick-tocking to warn Captain Hook.
Voiced by Adam Wylie
Captain Hook's arch nemesis and the leader of Never Land (specifically the "Lost Boys"). Even though he didn't appear in all of season 1, he was frequently mentioned and appeared in the special 1-hour episode Jake and the Never Land Pirates: Peter Pan Returns.
Jake, Izzy and Cubby's pirate ship who has a mind of its own and communicates with the crew through its ringing ship bell.
Recurring characters
Russi Taylor - Never Bird - A former sidekick of Captain Hook who she soon betrays and joins forces with Jake and his crew.
Loren Hoskins - Sandy the Starfish - Marina the Mermaid's singing pet starfish with the ability to heal with a special song.
Tori Spelling (speaking)/Laura Dickenson (singing) - Pirate Princess - A legendary beautiful pirate who was cursed by a sea witch and shipwrecked in a hidden grotto but rescued by Izzy and the others.
Adam West - Wise Old Parrot - An aged scarlet macaw and King of the Sky Bird Kingdom.
Dee Bradly Baker - Monkey - A mischievous primate who steals Jake's bongos. Later on, her returns them and becomes friends with Jake and his crew.
Sharon Osbourne - Mama Hook - Captain Hook's mother. She was once queen on the NeverSea and taught Hook how to become a worthy pirate captain.
Jane Kaczmarek - Red Jessica - A swashbuckling pirate with whom Captain Hook falls in love with.
Josh Duhamel - Captain Flynn - A pirate who became stranded on the Never Land desert with his ship The Barracuda but rescued by Jake and the Never Land Pirates.
Tiffani Thiessen - Misty the Wonderful Witch - A villainous witch who reformed sometime upon meeting Jake and his crew.
Jerry O'Connell - Pip the Pirate Genie.
Reception
The series received positive reviews. A review in Variety called it "[p]art video game, part interactive cartoon, part advertisement for 'Peter Pan' merchandise".[2] A review in The Los Angeles Times stated that Captain Hook "has been laundered — reasonably enough, yet sadly as well — into a shell of his former self, too silly to be frightening, not even a decent bully, just a kind of (much) older boy who wants to steal your toys."[3] Common Sense Media rated it "on" for ages 3 and older, praising the educational content, role models, and especially the messages of the show, and expressing only mild concern about the moderate violence. [4] As the flagship of the newly-launched Disney Junior channel, the series was rated the most-watched program among boys ages 2–5 during its first few weeks on the air, with 2.9 million viewers, including 1.1 million ages 2–5, and over 600,000 women ages 18–49 (presumed to be mothers and other caregivers), only about 100,000 less than the typical Friday night first-ran episode on Disney Channel.[5] On July 27, 2011, the series was awarded #2 of the Best TV Shows 2011 list.[6] The series premiere got 2.2 million viewers. On Feburary 13, 2012, Jake and the Never Land Pirates: Peter Pan Returns got a record 3.091 million viewers. It is cable TV's #1 series among Boys 2-5 and Disney Channel's #1 preschool series of all time among Total Viewers, Kids 2-5, Boys 2-5 and Women 18-49 [7] - more than any new program (Phineas and Ferb, ANT Farm, and Jessie) on the Friday before.
The character Jake has to received positive reviews. The character has been thought of as a "classic Disney character", lovable and entertaining addition. He has quickly become an icon along with being a meet-and-greet character at both Disney's Hollywood Studios and Disney California Adventure as well as the popular Disney Junior Live and on the park's entrance drawings.
The series has a 7.1 rating on IMDB with 75 votes. [8] The first DVD has a perfect 5/5 on Amazon.com with 19 ratings, [9] while the 2nd DVD has a 4.5/5 from 6 ratings [10]
Awards
| Award | Category | Outcome |
| --- | --- | --- |
| Annie Award | Best Animated TV Production - Preschool | WON |
| Young Artist Award | Best Performance in a Voice-Over Role - Young Actor (Colin Ford) | WON |
| Daytime Emmy Award | Outstanding Casting for an Animated Series | NOMINATED |
Trivia
The episode Cubby's Goldfish were shown in some international viewings of Winnie the Pooh.
Hide the Hideout and Peter Pan Returns are the only times Skully has ever collected any gold dabloons.
Captain Hook's Parrot was the first time anyone other than Jake introduced the episode.
DVD releases
A Jake And The Never Land Pirates DVD was released September 27, 2011. The second DVD, containing the episode Jake and the Never Land Pirates: Peter Pan Returns, was released April 3, 2012.
References
| | |
| --- | --- |
| | This page uses content from the English Wikipedia. The original article was at Jake and the Never Land Pirates. The list of authors can be seen in the page history. As with DisneyWiki, the text of Wikipedia is available under the GNU Free Documentation License. |