Jade is one of the supporting characters who commonly appears alongside Ruby in the Disney Junior series Sofia the First.
Role in the Series
Jade makes her debut appearance with Ruby when Sofia leaves Dunwiddie Villiage for Enchancia Castle after becoming a Princess. She wishes Sofia good luck and tells her not to forget her. Days later, Queen Miranda invites Jade and Ruby to the castle to cheer up Sofia, who has become increasingly quiet and introverted. Sofia is delighted to see her and has a tea party. During the party, Prince James, who Jade has a crush on, comes over and Jade swoons over him. Jade is last seen watching James getting Sofia ready for her ball.
As a friend of Sofia's, Jade is a major supporting character in the series.
Jade makes her first major appearance in "The Big Sleepover". Jade first appears with Ruby when they arrive at the castle for the Royal Sleepover Sofia invited them to. Jade has a good time at the party and is delighted to see James again. Her fun comes to an end after Sofia tells her to act like the Princesses which leaves her dying of boredom. After Sofia accidentally says she and Ruby were embarrassing her a hurt Jade storms off with Ruby unaware that Sofia did not mean it and that Amber had been saying nasty things about them. Jade is about to leave with Ruby when Sofia runs up and apologizes for what she said. They then resume partying together.
A part of Jade's nasty side is revealed in "The Little Witch": She can't control her temper and does not forgive easily. She also has a tendency to jump to conclusions without even trying to get the facts first. This is shown when she does not accept Lucinda's apologies for all the times the little witch hexed her and refused to invite her to her birthday party even after Sofia told her Lucinda was being sincere when she said sorry. It is further shown when she set a trap for Lucinda even though Ruby told her she had seen with her own eyes that Sofia was right and when she yelled at Lucinda when the trap wrecks her party even though the mess was her fault. However, she can acknowledge when she has made a mistake as shown when she apologized to Lucinda.
In "Four's a Crowd" Jade and Ruby are invited by Sofia to be part of the Flylight Pagent. While working on the coach, Jade and Ruby finally becomes friends with Amber and tells Sofia how much fun she is having unaware that Sofia's not happy about this. However, she does notice Sofia's increasingly erratic behavior. After Sofia accidentally ruins the coach, Amber, Ruby, and Jade finally get the truth out of her: That she's afraid that she and Ruby don't want to be her friends anymore. Jade tells her she and Ruby were just excited that they made a new friend.
Another part of Jade's nasty side is revealed in "A Tale of Two Teams": Even though she loves having fun she loves winning more to the point of being a bad sport. This is shown when she gives Sofia the enemy treatment when she played for the Royal Redhawks and didn't forgive her even when she rejoined the Dunwiddie Ducks. It took Sofia helping them win to make Jade forgive her. It's also revealed that Jade needs glasses to see.
Gallery
v - e - d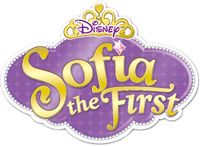 Characters
Princess Sofia • Queen Miranda • King Roland II • Prince James • Princess Amber • Princess Hildegard • Cedric the Sorcerer • Wormwood • Baileywick • Robin • Mia • Clover • Whatnaught • Goodwyn the Great • Winifred the Wise • Jade • Ruby Hanshaw • Princess Clio • Princess Maya • Princess Lakshmi • Prince Zandar • Princess Jun • Prince Hugo • Minimus • Princess Vivian • Crackle • Queen Cecily • Gnarlie • Trolls • Teeny • Ginger • Mrs. Higgins • Nigel • Lucinda • Princess Leena • Prince Jin • Magic Carpet • Jasper • Constable Myles • Prince Khalid • Meg and Peg • Boswell • Madam Ubetcha • Prince Desmond • Miss Nettle • Sir Gillium • Professor Popov • Helen Hanshaw • Oona • Queen Emmaline • Cora • Plank • Aunt Tilly • Wilbur the Wombeast • Admiral Hornpipe • Sven • Farley • Lulu • Emperor Quon • Empress Lin-Lin • Rex • Rosey • Prince Axel • King Garrick • Electra • Vaughan and Vance • Crankle the Ogre • Marla • Sir Bartleby • Sir Maxwell • Sir Finnegan • Queen Anya • Gwen • Chef Andre • Sofia the Worst • Lady Joy • Lord Gilbert • Wu-Chang • Jade Jaguar • Sir Dax • Boo • Princess Lani • Mamanu • Kamea and Halia • Praline • Freedo • Princess Zooey • Queen Avery • Princess Astrid • Slickwell • Greylock the Grand • Princess Ivy • Dragons of Enchancia • Winter • Whiskers • Glacia the Ice Witch • Hexie • Director Dove • Elliot, Amy, and Kurt • Tizzy • Master Erwin • Bryce Twigley • Button, Benngee, and Brody • Mossy • Carol of the Arrow • Jane • Princess Kari • Miss Elodie • Fluke • Slim • Shelly • Flip • Mantacorn • Onyx and Opal • Wendell Fidget • Mrs. Fidget • Saffron • Muck, Gunk and Grime • Spruce • Ballerina • Mazzimo • Prince Roderick • Gavin • Kazeem • Sergeant Fizz • King Habib and Queen Farnaz • Chief Gnuckles • Flinch • Grotta • Queen Tessa • King Oberlyn • King Marcus • Herb the Hedgehog • Duncan and Herb • Elfonso • Elfred • Milo the Snake • Prince Derek • Sir Henley • King Henrik • Cordelia the Conjuror • Calista • Morgana • Crispy • Barley • Sassofras • Professor Zacharias Fleeber • Grand Mum • Gemina and Argus • Count Barnstorm • Raja Vijay • Sir Oliver • Sir Jaxon • Willawing • King of Brazendell • Kai • Princess Charlotte • Morris • Zinessa • King Philip and Queen Everly • Lily • Indigo • Marty and Maple • Mandy • Grimtrix • Wriggley, Pumpkin, and Chester • Skye • Piccolo • Baron Von Rocha • Professor Pecullian • Sea Monsters • Malacite and Fig • Omar • Prisma • Azurine • Orion • Vega • Chrysta • Sizzle • Cinder • The Duchess • Singe • Mare of the Mist • King Roland I • Ms Candoo • Roma


Elena of Avalor: Princess Elena • Princess Isabel • Francisco • Luisa • Shuriki • Alacazar • Zuzo • Mateo • Migs, Luna, and Skylar • Rafa • Chancellor Esteban • Naomi Turner • Armando • King Raul and Queen Lucia
Guest Characters: Flora, Fauna, and Merryweather • Cinderella • Jasmine • Magic Carpet • Belle • Ariel • Aurora • Snow White • Mulan • Rapunzel • Tiana • Merida • Olaf • Merlin