Ad blocker interference detected!
Wikia is a free-to-use site that makes money from advertising. We have a modified experience for viewers using ad blockers

Wikia is not accessible if you've made further modifications. Remove the custom ad blocker rule(s) and the page will load as expected.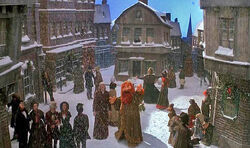 "It Feels Like Christmas" is sung by the Ghost of Christmas Present (Jerry Nelson) to Scrooge in The Muppet Christmas Carol, an alternate version of which also appears over the end credits.
The song was also performed without the Ghost of Christmas Present for the Holiday Greetings from The Ed Sullivan Show special, instead being sung by Kermit, Miss Piggy, Bunsen Honeydew, Beaker, Gonzo, Rizzo the Rat, Robin the Frog, Fozzie Bear, and backed up by penguins, Mudwell, and Murray in their Christmas Carol personae.
The Muppet cast also performed the song in The Muppet Show Live.
Kermit performed the song again at Disneyland for a YouTube video released in December 2014.
Lyrics
It's in the singing of a street corner choir
It's going home and getting warm by the fire
It's true, wherever you find love
It feels like Christmas

A cup of kindness that we share with another
A sweet reunion with a friend or a brother
In all the places you find love
It feels like Christmas

It is the season of the heart
A special time of caring
The ways of love made clear
It is the season of the spirit
The message, if we hear it
Is make it last all year

It's in the giving of a gift to another
A pair of mittens that were made by your mother
It's all the ways that we show love
That feel like Christmas

A part of childhood we'll always remember
It is the summer of the soul in December
Yes, when you do your best for love
It feels like Christmas

It is the season of the heart
A special time of caring
The ways of love made clear
It is the season of the spirit
The message, if we hear it
Is make it last all year

It's in the singing of a street corner choir
It's going home and getting warm by the fire
It's true, wherever you find love
It feels like Christmas
It's true, wherever you find love
It feels like Christmas
It feels like Christmas
It feels like Christmas