"
It's a Colorful Life
" is the twentieth episode of the first season of
Penn Zero: Part-Time Hero
. It premiered on
June 1
,
2015
.
Synopsis
When Penn and his team are zapped into a color-filled world where the colorful Hues and the gray Drabs are in a feud, they must stop Rippen from destroying the rainbow rocks.
Trivia
This episode's title is a spoof of the Christmas classic, as well as 1946 film of the same name - It's a Wonderful Life.
Color World has many references to the books by Dr. Seuss.

The conflict between the Hues and the Drabs is very similar to the Sneetches (divided into two types, as one group is comprised of those who have stars on their bellies, and the other group is comprised of those who don't) of the Dr. Seuss story of the same name from the book The Sneetches and Other Stories, and one of the three segments of the DePatie-Freeling Cartoon Dr. Seuss on the Loose.

It is revealed that Phyllis is very allergic to flowers.
v - e - d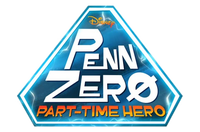 Locations
Middleburg • Middleburg Central High • The Odyssey • Fish Stick on a Stick • North Pole • Knight World • Superhero World • Arabian World • Plush Toy World • Clown World • Dinosaur Cowboy World • Cereal World • Old English World • Giant Monster World • Zombie World • Space World • Ocean World • Color World • Musical Fairy Tale World • Caveman Spy World • Future Barbarian World • Ultrahyperball World • Demon World • Alien World • Galaxy World • Temple World • Dragon World • Gothic Mystery World • Plant World • Animal Barbarian World • Toy World • Outer Space Court World • Robot World • Pirate World • Fairymania World • Steampunk World • Ball World • Ghost World • Rock, Paper, Scissor World • Beast World • Anime World • Sitcom World • Nothingness • Most Dangerous World Imaginable • Least Dangerous World Imaginable
Objects
Multi-Universe Hologram Uplink • Multi-Universe Transprojector • Pigoilet • The QPC Unit • Vortex Tops • Specs