"It's a Colorful Life" is the twentieth episode of the first season of Penn Zero: Part-Time Hero. It premiered on June 1, 2015.
Synopsis
When Penn and his team are zapped into a color-filled world where the colorful Hues and the gray Drabs are in a feud, they must stop Rippen from destroying the rainbow rocks.
Trivia
This episode's title is a spoof of the Christmas classic It's a Wonderful Life.
v - e - d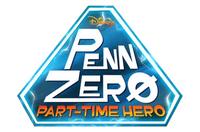 Locations
Middleburg • Middleburg Central High • The Odyssey • Fish Stick on a Stick • Knight World • North Pole • Superhero World • Arabian World • Plush Toy World • Chuckle City • Big Butte • Space World • Ocean World • Musical Fairy Tale World • Caveman Spy World • Alien World • Dragon Flight School • Plantywood • Most Dangerous World Imaginable • Least Dangerous World Imaginable
Objects
Multi-Universe Hologram Uplink • Multi-Universe Transprojector • Pigoilet • The QPC Unit • Vortex Tops • Specs
Ad blocker interference detected!
Wikia is a free-to-use site that makes money from advertising. We have a modified experience for viewers using ad blockers

Wikia is not accessible if you've made further modifications. Remove the custom ad blocker rule(s) and the page will load as expected.