"It's a Colorful Life" is the twentieth episode of the first season of Penn Zero: Part-Time Hero. It premiered on June 1, 2015.
Synopsis
When Penn and his team are zapped into a color-filled world where the colorful Hues and the gray Drabs are in a feud, they must stop Rippen from destroying the rainbow rocks.
Trivia
This episode's title is a spoof of the Christmas classic It's a Wonderful Life.
v - e - d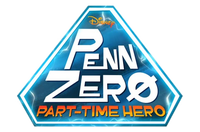 Songs
Penn Zero: Part-Time Hero (Opening Theme) | We're Breaking Out of Here for Christmas | Time to Kill | We Can Catch the Milkman | What is a Princess? | Pigoilet | Victory is Mine at Last | The Truth of It Is | Moonlight Bright | This is a Real Song | Boone Reads On | Race to the Top | Race to the Top (reprise) | You're a Karaoke King | High in the Sky | Breath In, Breath Out | Bad Weed | Today is the Day | My Name is Penn Zero | Save the Worlds
Locations
Middleburg | Middleburg Central High | The Odyssey | Fish Stick on a Stick | Knight World | North Pole | Superhero World | Arabian World | Plush Toy World | Chuckle City | Big Butte | Space World | Ocean World | Musical Fairy Tale World | Caveman Spy World | Alien World | Dragon Flight School | Plantywood | Most Dangerous World Imaginable | Least Dangerous World Imaginable
Objects
Multi-Universe Hologram Uplink | Multi-Universe Transprojector | Pigoilet | The QPC Unit | Vortex Tops | Specs