Ad blocker interference detected!
Wikia is a free-to-use site that makes money from advertising. We have a modified experience for viewers using ad blockers

Wikia is not accessible if you've made further modifications. Remove the custom ad blocker rule(s) and the page will load as expected.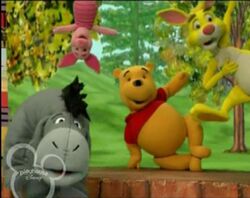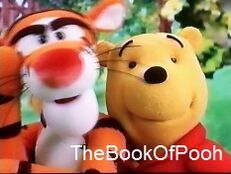 "
Isn't that Funny?
" is a song from "
I Could Have Laughed All Night
," an episode of
The Book of Pooh
.
Tigger
lost his laugh, so Pooh, Piglet, Rabbit, and Eeyore tried to bring his laugh back by telling him jokes. At first, it doesn't work, but when Rabbit wants to end the show, Pooh dose not want to end it. Pooh leans on a pole from the curtains and says "No, not yet!" and accidentally knocks down the pole. Then the curtains fall and so dose the top pole. It falls on all of there heads, Eeyore's first, then Eeyore says "Oh, typical." Pooh and Rabbit try to lift the pole and put the curtains back up. Rabbit falls with the top pole and curtains. Tigger laughs and says, "That's hilarious!" Then he realized his laugh is back and says "I'm cured, I feel like bouncing again." Then Rabbit's hat is still showing. Pooh said, "We sure helped Tigger didn't we". Rabbit came back up and said "we sure did". Then he fell again and said, "Whoa, don't make me laugh." Tigger bounced all over the woods laughing.
Lyrics
 [Pooh, Piglet and Rabbit]
 
 Well, hello friends, hello folks
 We're here with silly gags and jokes

 [Pooh]

 Like Pooh Bear slipping in a puddle of honey
 Isn't that funny?
 
 [Piglet, Rabbit and Eeyore]
 
 Isn't that funny?
 
 [Rabbit]
 
 As the monkey told the giraffe
 "I double dare you not to laugh"
 
 [Piglet]
 
 Hey, look, it's raining
 But the sky's still sunny
 Isn't that funny?
 
 [Pooh, Rabbit and Eeyore]
 
 Isn't that funny?
 
 [Pooh, Piglet, Rabbit and Eeyore]
 
 You laughed every other time we did that one before
 What's the matter, Tigger?
 Don't you get it anymore?
 
 [Tigger]
 
 (snores)
 
 [Rabbit]
 
 (Tell me, Piglet: What time is it when a heffalump sits on your fence?)
 
 [Piglet]
 
 (I wouldn't know, Rabbit.)
 
 [Rabbit]
 
 (Time to get a new fence.
 And what time is it when a heffalump sits on your house?)
 
 [Piglet]
 
 (Time to get a new house?)
 
 [Rabbit]
 
 (Time to get a new heffalump!)
 
 [Tigger]
 
 (Stop, my sides are splittin'.)
 
 [Pooh]
 
 With a ha ha ha
 
 [Piglet]
 
 And a hee hee hee
 
 [Rabbit]
 
 I know you really wanna laugh at me
 
 [Pooh]
 
 Listen, Tigger, my nose is runny
 
 [Pooh, Piglet, Rabbit and Eeyore]
 
 Isn't that funny?
 
 [Tigger]
 
 No, it isn't that funny
 
 [Piglet]
 
 Oh, why'd the chicken cross the road?
 Tigger, can't you say?
 
 [Tigger]
 
 She was sick of them lousy jokes
 She had to get away
 
 [Pooh]
 
 (Knock knock, Tigger.)
 
 [Tigger]
 
 (Who's there?)
 
 [Pooh]
 
 (Amos.)
 
 [Tigger]
 
 (Amos, who?)
 
 [Pooh]
 
 (A mosquito just bit me. Knock knock.)
 
 [Tigger]
 
 (Who's there, now?)
 
 [Pooh]
 
 (Andy.)
 
 [Tigger]
 
 (Andy who?)
 
 [Pooh]
 
 (And he just bit me again.)
 
 [Tigger]
 
 (I don't think my laugh is asleep.
 I think it just left town.)
 
 [Pooh and Rabbit]
 
 Here's a gag that cannot fail
 Let's play jump rope with Eeyore's tail
 
 [Piglet]
 
 A bumbling bear and a bouncing bunny
 
 [Eeyore]
 
 It's not the best day I ever had
 As a matter of fact, it's prety bad
 But since you asked, I'm feeling crummy
 Isn't that funny?
 
 [Pooh]
 
 (Uh, I don't think so.)
 
 [Piglet]
 
 (No, Eeyore.)
 
 [Rabbit]
 
 (No, not at all.)
 
 [Pooh, Piglet and Rabbit]
 
 We don't need a big guffaw
 
 [Piglet]
 
 Just a giggle and a half
 
 [Rabbit]
 
 Come on, Tigger, we're dying up here
 
 [Pooh, Piglet and Rabbit]
 
 Dying to hear you laugh
 
 We hope you liked our little game
 But without you, it's not the same
 'Cause the way you laugh is just the best
 And if you joined our chuckle-fest
 Every joke would land right on the money
 
 [Pooh, Piglet, Rabbit and Eeyore]
 
 Isn't that funny?
 Isn't that funny?
 Isn't that funny?
 
 [Tigger]
 
 No, it isn't that funny!
 (I'll never get my laugh back.)