"
I wonder what *imitates Perry's chatter* means.
"

— Phineas Flynn
"Interview With a Platypus" is an episode of Phineas and Ferb.
Phineas and Ferb decide to find out what Perry's chatter means. However, they later find out that the Perry translator works on all animals and decide to use it to help all of the animals in Danville. Meanwhile, Candace tries to spend some time with Jeremy, but she keeps being interrupted by Suzy's poodle, and Dr. Doofenshmirtz tries to flood the Tri-State Area, and invents a vehicle that drives on water.
Episode Summary
Phineas and Ferb are sitting with Perry in their backyard. Perry does his chattering noise when Phineas asks him what he wants to do. Phineas tells Ferb that some people say Perry is just a mindless platypus, but he might actually be thinking real thoughts. Phineas says that he knows what they're going to do today: they're going to build a Perry translator!
Candace is talking on the phone with Stacy about Jeremy when she revives a phone call from him. He asks her to come over since he has just gotten a new video game. Candace rushes at Jeremy's house as he tells Candace that Suzy is not home. Meanwhile, Phineas and Ferb complete their contraption, but when they turn around, Perry has just entered his lair.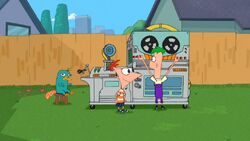 At the lair, Major Monogram tells Perry that the organization is using alternative energy and trying to become "green", as the lights in Perry's lair are malfunctioning. Since the organization is saving paper Major Monogram just tells Perry that the assignment involves Dr. Doofenshmirtz. As Perry is ready to fulfill his assignment, he is grabbed by Phineas so he and Ferb can test Perry on the new made translator. As Phineas and Ferb are ready to hear Perry say something, they are interrupted by Isabella, who asks them what they're doing. This distraction gives Perry enough time sneak out and do his mission.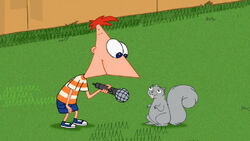 Phineas and Ferb find out that the Perry translator was not only meant for Perry, but for all the other animals in their neighborhood as well. They interview the animals and talk to them about their problems. Phineas finds out that all the animals want things that they can't have, which gives him an idea. Phineas says that they should tell all the pets' owners what their pets want.
While Jeremy is showing Candace his new video game, Suzy's dog jumps in the couch between them. As Candace sees the dog's friendliness towards Jeremy she tries to pet the dog, receiving a hostile growl back from the dog. As Jeremy and Candace are playing the video game, Suzy's dog steals Candace's shoe, causing Candace to run after it and suffering a major accident in the bathroom, which makes Candace to run away from Jeremy's house.
Perry goes to the forest where Dr. Doofenshmirtz traps him in a bargain shark cage. The Doofenshmirtz goes off to explain his plan to flood the entire Tri-State Area by opening the Danville Dam so that the entire Tri-State Area will be flooded to make it like Venice, Italy; or to a lesser extent like Venice Beach, California; thus forcing the inhabitants of Danville to purchase his BO-AT.
Candace arrives at Phineas and Ferb's backyard and asks what are they doing. Phineas tells her that they created an animal translator to help understand what animals are thinking. Candace shouts at them and tells them that animals are stupid and she is fed up with them. The animals hear her and run after her. Phineas and Ferb talk to the pets' owners and tell them what their pets want while Candace runs around the neighborhood.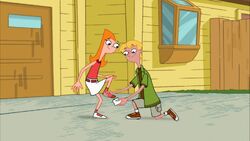 Dr. Doofenshmirtz presses a button on his remote and opens the Danville Dam, activating his BO-AT (Buoyancy Operated Aquatic Transport). Perry jumps onto his BO-AT and interferes. However, Candace runs across the water just in time for all the animals to be swept away onto Dr. Doofenshmirtz's BO-AT. Perry jumps off the BO-AT and opens up the moat. The flooding water rushes into the moat and it leads off to sea, leaving Danville unharmed.
Candace shows her mom the Perry translator, but she thinks that it is a very cute idea. Phineas tests out the animal translator on Perry, but they find out that his chattering noise doesn't mean anything at all. Linda states that Perry is just saying, "You guys are the best!" Phineas, Ferb, Isabella, and Candace go inside for some snacks, and Jeremy comes over to the backyard. He brings Candace back her shoe and says that he washed it for her, leaving Candace in a trance.
Songs
Video releases
DVD
Phineas and Ferb: A Very Perry Christmas
Background Information
Linda Flynn-Fletcher finally finds out about the invention of Phineas and Ferb. But as it doesn't work on Perry, she just assumes the boys are playing pretend like usual and walks away.

However, Perry may have been meaning to chatter and nothing else.

This is the first time that Phineas and Ferb's Big Ideas didn't disappear with the help of Dr. Doofenshmirtz.
Doofenshmirtz mentions turning Danville into a canal city like Venice, Italy or at least Venice, California. Executive producer Jeff "Swampy" Marsh currently lives on Venice, California.
It is unknown if the boys keep the Animal Translator or destroy it after the episode ended.
First season 2 appearance of Isabella.
When Candace says "[I'm an animal and I] bite my own hiney", it may be a reference to S'Winter, when Perry escapes from the chocolate casing by "eating his own hiney".
Phineas and Ferb mistake first Perry's, "Hi, Phineas," and then the bird's, "I sure love worms!" for something Isabella has said. In "Get That Bigfoot Outa My Face!," Candace thinks a squirrel is talking to her, only to find that it is her grandmother's voice.
Doofenshmirtz invents the BO-AT, but he already knows what a boat is when he is loaded onto one in "Toy to the World." It's possible this happened before that episode.
The singers of My Nemesis from "It's About Time!" return to sing Perfect Day.
When Jeremy puts on Candace's shoe at the end, an orchestral version of Isabella's theme music can be heard.
Production Information
Episode description from a 2009 Disney XD Phineas and Ferb press release:[1]
Phineas and Ferb wonder what Perry's really trying to say, so they invent an animal translator. Soon every animal in the neighborhood shows up with a list of complaints. Meanwhile, Candace is dealing with her own animal problems courtesy of Little Suzy's evil poodle, and Doofenshmirtz is trying to harness a Buoyancy Operated Aquatic Transport (aka, BO-AT).
Errors
When Doctor Doofenshmirtz was driving his BO-AT, somewhere in when he says "Look at me! I'm driving on water! I'm BO-ATing", the BO-AT's steering wheel disappears for a split second.
Suzy's poodle pees on Candace's left shoe, but she removes her right shoe to clean it and is missing her right shoe the rest of the episode.

However, when the screen zooms out when Perry chatters into the Platypus Translator, Candace is wearing both shoes.

After the animals get on Doofenshmirtz BO-AT the gorilla is seen driving, but after Perry opens the MOAT Doofenshmirtz is driving again.
In some parts of the song of this episode, Candace's hair is damaged (because the animal attacked), but there are scenes in which she is well groomed and the next second, it is again as before.
In this episode, Candace does not know anything about playing video games, and yet in "Tree to Get Ready", she is shown playing a video game with Stacy.
In one scene, when Candace is angry with the animals, they crowd her, there is a dog, and the animals start to get angry, then in a different frame it is then next to the machine shouting 'Get her', then he reappears in his previous spot.
If you look closley as Candace repeatedly pauses and resumes the game, she is actually pressing the "down" button.
Continuity
The Fireside Girls trying to get Pinky (Isabella's chihuahua) to forget about "little people" could be a reference to the end of "Journey to the Center of Candace" where Dr. Doofenshmirtz gets trapped in a shrunken submarine and eaten by Pinky, and then finds out how to control Pinky's brain using the submarine.

It could also be referencing when Phineas, Ferb, Candace, Isabella, Baljeet, Irving, and Buford shrunk themselves in "Hide and Seek."

Candace mentions liking video games again, and is still being bad playing with them ("Tree to Get Ready")
Allusions
Interview With the Vampire - The title of the episode is an allusion to Anne Rice's popular first book in the Vampire Chronicles.
Noah's Ark - The angry animals that were chasing Candace got on Dr. Doofenshmirtz's BO-AT (Buoyancy Operated Aquatic Transport) making it look like Noah's Ark and travel the city in which appears to be just like the city of Venice, Italy.
The bird going and telling all the animals about the invention may be a reference to the common phrase "A little birdie told me that..."
Snow White and the Seven Dwarfs - The bird going and telling all the animals may be a reference to the songbirds gathering all the animals together to warn the dwarfs about Snow White's poisoning.
VeggieTales - The squirrel sounds like Larry the Cucumber from VeggieTales.
Wasp/Waspinator - The squirrel is also similar to Wasp/Waspinator from Transformers, who is also voiced by Tom Kenny.
Garfield - While Phineas and Ferb are interviewing animals using the animal translator, a cat they interview looks very similar to Garfield, and also has the same demand of his owners: more food.
Enchanted - While Jeremy is putting Candace's shoe on her foot, a few notes from the Enchanted song True Love's Kiss can be heard. After Candace swoons to the ground, Jeremy asks her if she's okay. She responds, "Enchanted."
Cinderella - At the end, the way Jeremy gave Candace's shoe to her is similar to Cinderella.
The Benny Hill Show - The animals then show up and chase them off as Candace run for their lives through the city is similar to a Benny Hill-style chase.
Hit Me With Your Best Shot - When Phineas told Perry "Hit me with your (Perry's chatter) shot," it may be a reference of the song "Hit Me With Your Best Shot" by Pat Benatar.
Mississippi River – Gulf Outlet Canal - The Mississippi River – Gulf Outlet Canal is known as Mr. Go by the locals from New Orleans, as the abbreviation is MRGO, similar to Danville's MOAT.
Titanic (1997)- Dr Doofensmirtz does the King of the world scene when he's on the BO-AT.
My Friends Tigger and Pooh- This episode makes an homage to the "My Friends Tigger and Pooh" episode "Buster's Ruff Day", in which the main characters try to teach their pet to talk using their animal translator. Coincidentally, Buster and Perry are both voiced by Dee Bradley Baker.
Cast
♦

designates a character that did not appear in this episode
References
v - e - d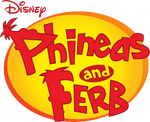 Episodes
Season One: "Rollercoaster" • "Candace Loses Her Head" • "The Fast and the Phineas" • "Lawn Gnome Beach Party of Terror" • "The Magnificent Few" • "S'Winter" • "Are You My Mummy?" • "Flop Starz" • "Raging Bully" • "Lights, Candace, Action!" • "Get That Bigfoot Outta My Face!" • "Tree to Get Ready" • "It's About Time!" • "Jerk De Soleil" • "Toy to the World" • "One Good Scare Ought to Do It!" • "A Hard Day's Knight" • "I, Brobot" • "Mom's Birthday" • "Journey to the Center of Candace" • "Run Away Runway" • "I Scream, You Scream" • "It's a Mud, Mud, Mud, Mud World" • "The Ballad of Badbeard" • "Dude, We're Getting the Band Back Together" • "Ready for the Bettys" • "The Flying Fishmonger" • "Phineas and Ferb Get Busted!" • "Greece Lightning" • "Leave the Busting to Us!" • "Crack That Whip" • "The Best Lazy Day Ever" • "Boyfriend From 27,000 B.C." • "Voyage to the Bottom of Buford" • "Put That Putter Away" • "Does This Duckbill Make Me Look Fat?" • "Traffic Cam Caper" • "Bowl-R-Ama Drama" • "The Monster of Phineas-n-Ferbenstein" • "Oil on Candace" • "Unfair Science Fair" • "Unfair Science Fair Redux (Another Story)" • "Out to Launch" • "Got Game?" • "Comet Kermillian" • "Out of Toon" • "Hail Doofania!"


Season Two: "The Lake Nose Monster" • "Interview With a Platypus" • "Tip of the Day" • "Attack of the 50 Foot Sister" • "Backyard Aquarium" • "Day of the Living Gelatin" • "Elementary My Dear Stacy" • "Don't Even Blink" • "Chez Platypus" • "Perry Lays an Egg" • "Gaming the System" • "The Chronicles of Meap" • "Thaddeus and Thor" • "De Plane! De Plane!" • "Let's Take a Quiz" • "At the Car Wash" • "Oh, There You Are, Perry" • "Swiss Family Phineas" • "Phineas and Ferb Musical Cliptastic Countdown" • "Phineas and Ferb's Quantum Boogaloo" • "Hide and Seek" • "That Sinking Feeling" • "The Baljeatles" • "Vanessassary Roughness" • "No More Bunny Business" • "Spa Day" • "Bubble Boys" • "Isabella and the Temple of Sap" • "Cheer Up Candace" • "Fireside Girl Jamboree" • "The Bully Code" • "Finding Mary McGuffin" • "What Do It Do?" • "Atlantis" • "Picture This" • "Nerdy Dancin'" • "I Was a Middle Aged Robot" • "Suddenly Suzy" • "Phineas and Ferb Christmas Vacation!" • "Undercover Carl" • "Hip Hip Parade" • "Just Passing Through" • "Candace's Big Day" • "Invasion of the Ferb Snatchers" • "Ain't No Kiddie Ride" • "Wizard of Odd" • "The Beak" • "Not Phineas and Ferb" • "Phineas and Ferb-Busters!" • "The Lizard Whisperer" • "Robot Rodeo" • "The Secret of Success" • "The Doof Side of the Moon" • "She's the Mayor" • "The Lemonade Stand" • "We Call it Maze" • "Ladies and Gentlemen, Meet Max Modem!" • "Nerds of a Feather" • "Phineas and Ferb Hawaiian Vacation" • "Split Personality" • "Brain Drain" • "Make Play" • "Candace Gets Busted" • "Summer Belongs to You!" • "Rollercoaster: The Musical!"
Season Three: "Run, Candace, Run" • "Last Train to Bustville" • "The Great Indoors" • "Canderemy" • "The Belly of the Beast" • "Moon Farm" • "Phineas' Birthday Clip-O-Rama!" • "Ask a Foolish Question" • "Misperceived Monotreme" • "Candace Disconnected" • "Magic Carpet Ride" • "Bad Hair Day" • "Meatloaf Surprise" • "Tri-Stone Area" • "Doof Dynasty" • "Phineas and Ferb Interrupted" • "A Real Boy" • "Mommy Can You Hear Me?" • "Road Trip" • "Skiddley Whiffers" • "Tour de Ferb" • "My Fair Goalie" • "Perry the Actorpus" • "Bullseye!" • "That's the Spirit" • "The Curse of Candace" • "Escape from Phineas Tower" • "The Remains of the Platypus" • "Ferb Latin" • "Lotsa Latkes" • "A Phineas and Ferb Family Christmas" • "What a Croc!" • "Ferb TV" • "Mom's in the House" • "Minor Monogram" • "Excaliferb" • "Monster from the Id" • "Gi-Ants" • "Agent Doof" • "Phineas and Ferb and the Temple of Juatchadoon" • "Delivery of Destiny" • "Let's Bounce" • "Quietest Day Ever" • "Bully Bromance Break Up" • "Doonkleberry Imperative" • "Buford Confidential" • "Sleepwalk Surprise" • "Sci-Fi Pie Fly" • "Meapless in Seattle" • "The Mom Attractor" • "Cranius Maximus" • "Sipping with the Enemy" • "Tri-State Treasure: Boot of Secrets" • "Doofapus" • "Norm Unleashed" • "When Worlds Collide" • "Road to Danville" • "Where's Perry?" • "Blackout!" • "What'd I Miss?" • "This is Your Backstory"
Season Four: "Fly On the Wall" • "My Sweet Ride" • "For Your Ice Only " • "Happy New Year!" • "Bully Bust" • "Backyard Hodge Podge" • "Der Kinderlumper" • "Just Desserts" • "Bee Day" • "Bee Story" • "Sidetracked" • "Knot My Problem" • "Mind Share" • "Primal Perry" • "La Candace-Cabra" • "Happy Birthday, Isabella" • "Great Balls of Water" • "Where's Pinky?" • "Mission Marvel" • "Thanks But No Thanks" • "Troy Story" • "Love at First Byte" • "One Good Turn" • "Cheers for Fears" • "Just Our Luck" • "Return Policy" • "Imperfect Storm" • "Steampunx" • "It's No Picnic" • "Terrifying Tri-State Trilogy of Terror" • "Druselsteinoween" • "Face Your Fear" • "The Klimpaloon Ultimatum" • "Doof 101" • "Father's Day" • "Operation Crumb Cake" • "Mandace" • "Tales from the Resistance: Back to the 2nd Dimension" • "The Return of the Rogue Rabbit" • "Live and Let Drive" • "Lost in Danville" • "The Inator Method" • "Act Your Age" • "Phineas and Ferb Save Summer" • "Night of the Living Pharmacists" • "Phineas and Ferb: Star Wars" • "Last Day of Summer" • "O.W.C.A. Files"
Ad blocker interference detected!
Wikia is a free-to-use site that makes money from advertising. We have a modified experience for viewers using ad blockers

Wikia is not accessible if you've made further modifications. Remove the custom ad blocker rule(s) and the page will load as expected.