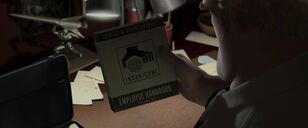 Insuricare
 is an insurance agency that
Bob Parr
worked at before returning to the hero world. He was later fired by his abusive, callous and apathetic boss,
Gilbert Huph
when he threw him through five walls after he refused to help a mugged victim just outside the insurance agency.
Under the grip of Gilbert Huph, it was not allowed to aid potentially insured customers, although Bob usually attempts to help them get around loopholes. This has earned him some antagonism from Huph, who did not want to help his customers, although when directly asked about it, he tries to deny it, citing that the law requires him to.
After the death of Syndrome, Mr. Incredible's former number one fan and sidekick, it is unknown if Bob Parr has been reinstated and if Gilbert Huph has been fired for not having the employees have their vacation and not helping a victim.
The symbol and slogan of the company are quite negative, since it represents a hand trying to snatch the Earth along with the slogan your life is in our hand, in which it seems that the company wants to hold people's lives at their mercy.
Trivia
The name is a spoof on "insurance", on how a practice or arrangement by which a company or government agency provides a guarantee of compensation for specified loss, damage, illness, or death in return for payment of a premium.