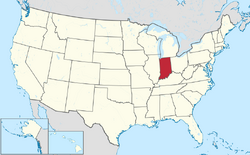 Indiana
is a US state, admitted to the
United States
as the 19th on
December 11
, 1816. It is located in the midwestern and Great Lakes regions of North America. Indiana is the 38th largest by area and the 15th most populous of the 50 United States. Indiana is the least extensive state in the continental US west of the Appalachian Mountains. Its capital and largest city is Indianapolis. Before it became a territory, varying cultures of indigenous peoples and historic Native Americans inhabited Indiana for thousands of years. Angel Mounds State Historic Site, one of the best preserved ancient earthwork mound sites in the United States, can be found in Southwestern Indiana near Evansville. Residents of Indiana are known as Hoosiers.
The state's name means "Land of the Indians," or simply "Indian Land." This name dates back to at least the 1760s but was first applied to the region by the United States Congress when the Indiana Territory was incorporated in 1800, separating it from the Northwest Territory. Since its founding as a territory, settlement patterns in Indiana have reflected regional cultural segmentation present in the Eastern United States; the state's northernmost tier was settled primarily by people from New England and New York, Central Indiana by migrants from the Mid-Atlantic states and from adjacent Ohio, and Southern Indiana by settlers from the Southern states, particularly Kentucky and Tennessee.
Films and Shows
Actors and Crew born in Indiana
Gallery
Ad blocker interference detected!
Wikia is a free-to-use site that makes money from advertising. We have a modified experience for viewers using ad blockers

Wikia is not accessible if you've made further modifications. Remove the custom ad blocker rule(s) and the page will load as expected.