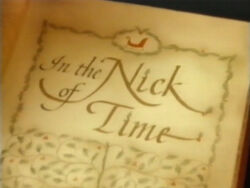 In the Nick of Time is a 1991 telefilm made by The Walt Disney Company. It originally aired on NBC on December 16, 1991.
Synopsis
Santa Claus is up for retirement after his 300 years, and he searches New York City for a replacement.
Cast
Lloyd Bridges as Santa Claus
Michael Tucker as Ben Talbot
Cleavon Little as Freddy
Conrad Bergschneider as Louie
Matt Birman as Window Dresser
Richard Blackburn as William
Steve Cliffe as Gang Member #1
Jessica DiCicco as Aimee Misch (as Jessica Di Cicco)
Lucy Filippone as Sheila
Elvira Graham as Tough Chick
Ted Hanlan as Ward Santa
Thomas Hauff as Figgus
Ken James as Ridley
Phillip Jarrett as Cop (as Phil Jarrett)
Jamie Jones as Nick
Alison La Placa as Susan Rosewell
Michael Lamport as Godfrey
Corey Macri as Gang Member #2
A Martinez as Charlie Misch
Martin Martinuzzi as Bartender
Aleks Oniszczak as Student
Jenny Parsons as Melina Liviakis
Adrian Paul as Interviewer
Bryan Renfro as Folksinger
Jackie Richardson as Nurse
Wayne Robson as Melvin
Roland Smith as Messenger
Audrey Webb as Sheila
Thick Wilson as Street Santa
Gallery
Ad blocker interference detected!
Wikia is a free-to-use site that makes money from advertising. We have a modified experience for viewers using ad blockers

Wikia is not accessible if you've made further modifications. Remove the custom ad blocker rule(s) and the page will load as expected.