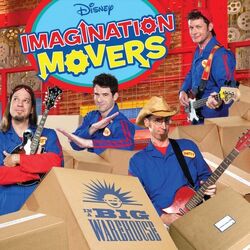 Imagination Movers: In a Big Warehouse
 is a 2010 Walt Disney Records album featuring songs from the
Playhouse Disney
series,
Imagination Movers
.
Details
Audio CD (September 21, 2010)
Number of Discs: 1
Label: Walt Disney Records
ASIN: B003YCI1NO
Track listings
Getting Stronger
Bounce
My Friends And Me
Up, Up, Up
Sunrise Sunset
Slip Sliding
When You Grow Up
Luck Of The Irish
Let The Sun Shine In
On My Way Home (Hawaiian Lullaby)
Riding The Waves
Butterfly
Friendly Guy
Get Serious
The Sensible Life Of A Pirate
Easy Come, Easy Go
Caribbean Rhapsody
Springtime
Ad blocker interference detected!
Wikia is a free-to-use site that makes money from advertising. We have a modified experience for viewers using ad blockers

Wikia is not accessible if you've made further modifications. Remove the custom ad blocker rule(s) and the page will load as expected.