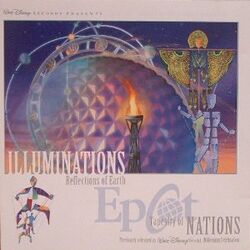 IllumiNations 25
was the official name for two different fireworks shows at
Epcot
.
The first version of IllumiNations 25, later unofficially referred to as IllumiNations 25 A, debuted in 1996 to celebrate the 25th anniversary of Walt Disney World. This version, which ran until 1997, was perhaps most notable for its non-classical soundtrack, in contrast to the classical soundtrack of the original IllumiNations.
The second version of IllumiNations 25, unofficially referred to as IllumiNations 25 B, debuted in 1997. This version used a classical music soundtrack, though a different one than the original IllumiNations soundtrack. In 1998, the references to the 25th anniversary were removed, though the show otherwise remained the same. This version ran until 1999, when it was replaced by IllumiNations: Reflections of Earth.
Ad blocker interference detected!
Wikia is a free-to-use site that makes money from advertising. We have a modified experience for viewers using ad blockers

Wikia is not accessible if you've made further modifications. Remove the custom ad blocker rule(s) and the page will load as expected.