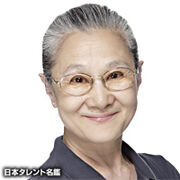 Ikuko Tani
(谷 育子 Tani Ikuko, born April 9, 1939) is a Japanese actress, voice actress and narrator from Tōkyō attached to Mausu Promotion. She is best known for her roles in Tanoshii Moomin Ikka (as Moominmamma), SpongeBob SquarePants (as Patrick Star) and the Japanese dubs of the Harry Potter films (as Minerva McGonagall).
Dubbing Role
Ad blocker interference detected!
Wikia is a free-to-use site that makes money from advertising. We have a modified experience for viewers using ad blockers

Wikia is not accessible if you've made further modifications. Remove the custom ad blocker rule(s) and the page will load as expected.