I Will Go Sailing No More
Comments

3
25,564pages on
this wiki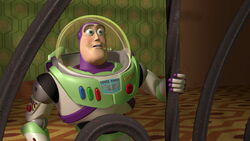 I Will Go Sailing No More
is a song from
Toy Story
. It was written and sung by
Randy Newman
in the perspective of
Buzz Lightyear
. The lyrics describe Buzz's "past", when he did brave things, and later insisted that he can fly, but concluded that he will never sail again, as it turns out he can't fly.
Lyrics
Out among the stars I'd sail,
Way beyond the moon
In my silver ship I sailed
In a dream that ended too soon
Now I know exactly who I am,
And what I'm here for
And I will go sailing no more
All the things I thought I'd be,
All the brave things I'd done
Vanished like a snowflake,
With the rising of the sun
Never more to sail my ship,
Where no man has gone before
And I will go sailing no more
But no, it can't be true.
I could fly if I wanted to.
Like a bird in the sky,
If I believed I could fly,
Why, I'd fly!
Clearly, I will go sailing, no more...
Trivia
The entire song is not played in the movie, as the second verse is cut out for time.