"
Anticipating just this kinda situation, I have been building robot replicas of the Flynn-Fletcher family. We can get Agent P to operate the Mr. Fletcher robot, until we can replace him with the real Mr. Fletcher.
"

— Carl
"I Was a Middle Aged Robot" is a Season 2 episode of Phineas and Ferb.
Candace is determined to win this year's father-daughter obstacle course but unfortunately, Lawrence finds Agent P's lair and his memory is accidentally erased by a memory-eraser gadget. Luckily, Carl had already made Flynn-Fletcher Family Robots for emergency situations. So Agent P operates a Lawrence robot to fill in during the race as Phineas and Ferb provide commentary from their broadcast blimp. Meanwhile, Dr. Doofenshmirtz invents "Eulg," a solution that works as the opposite of glue and takes everything apart.
Episode Summary
Candace and Lawrence are practicing for the Father-Daughter picnic today, and they're practicing the sack race and other events together. Candace wants to win for a change because they always lose, and has a gallery of loser and last place trophies to prove it. Phineas and Ferb decide to help the two win this year.
Perry slips away into his secret lair, but Lawrence spies the hole and gets sucked into Perry's secret HQ. He listens in on Major Monogram's briefing and sees Perry leaving on a mission. Shocked, he realizes he wasn't supposed to know about this, but in his haste to find an exit, he accidentally trips over a cord and gets strapped into a memory eraser, which proceeds to erase his memories.
Meanwhile, Isabella arrives and asks what are the boys doing. He tells her it's a surprise, but he'll need some pom-poms, a smoke machine, and 372 feet of bungee cord.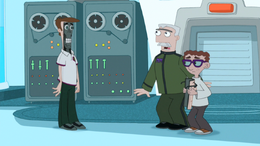 Back at HQ, Carl is sweeping when he sees Lawrence inside the memory eraser, which has erased all but 5% for his memories, causing him to act like a baby. He tells Major Monogram about the situation and he tells Carl he'll need to restore his memory in time for the Father-Daughter picnic. However, that will take three hours, though Carl became prepared for moments like this. He's built robots of the entire Flynn Fletcher family which Perry can use.
Dr. Doofenshmirtz tells Perry about "Eulg", which takes anything apart as opposed to glue, which causes everything to stick together. He'll use it to destroy the Adult Diaper factory, but before he can get to his back story, Monogram tells Perry that a more serious issue has came up and he'll need to abort his mission. Doofenshmirtz gets annoyed that he doesn't want to listen to why he wants the Adult Diaper factory destroyed, and tells him that this will be back story worthy.
While Candace is looking for her dad, Phineas and Ferb show off their floating pep squad mobile to Isabella and the Fireside Girls. After showing off their rooms, they head to the father daughter picnic.
Monogram tells Perry he'll need to operate the Lawrence robot while Carl restores his memory. The downside is that the instructions are in Dutch, but Carl gives Perry a Dutch to French dictionary and a French to English dictionary. After trying out some basic functions, he goes to the Father-Daughter picnic.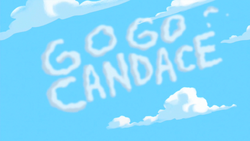 Candace tells
Linda
she can't find her father, but she tells Candace she's caught in a traffic jam and she'll be late to the picnic. The Lawrence robot appears, and assuming it's her dad, they get signed in. She does see the blimp, but the robot tells Candace "If it's okay with mom, it's okay with me", which leaves her puzzled.
Despite her brothers and the Fireside Girls cheering her on, they struggle through the first few events, such as the tug of war, the pie eating contest (during which Balthazar sees Agent P getting pies out of the robot's bottom and finds it gross), and the balloon animal challenge; they made a working balloon windmill, but that is not an animal. This isn't helped by Perry trying to stay undercover. The robot overheats, but Candace gets "Dad" some water to cool him down. Major Monogram appears on the screen and tells Perry that Carl forgot to top off the cooling levels.
The next event is the water balloon toss, and during this time, Monogram tells Perry Lawrence's memory is restored. He throws the balloon a long distance so Candace can run to catch it, and they make the switch. Balthazar sees Perry again, and they quickly retreat. When Lawrence arrives, he doesn't even know what happened, but Candace tells him they won the balloon toss for the farthest distance, and they're now in second place.
Doofenshmirtz flies his plane to the Adult Diaper factory, but accidentally spills some eulg on the plane, causing it to break down into pieces.
The last event of the games is the sack race. Candace and Lawrence struggle early on until he remembers the "Hop to the Finish" chant, causing them to take the lead, and Isabella and the Fireside Girls park the blimp for the final cheer. During this, Doofenshmirtz falls onto the blimp, followed by the pieces of his plane; the blimp pops and flies off.
Candace and Lawrence manage to win the race, and even win first place overall for the very first time. Lawrence tells her he'll remember this victory forever.
Perry appears, and Balthazar says he's seen him somewhere. Major Monogram tells Carl to fire up the memory eraser again.
Songs
Running Gags
The "Too Young" Line
Major Monogram: Wow, that's a little creepy, Carl.
Carl: Yes. Yes it is.
Ferb's Line
Fireside Girls
: Bubble gum, bubble gum, running in a sack.
Ferb
: Hop to the finish and don't look back.
What'cha doin'?
Isabella
: Hey, Phineas. Hi, Ferb.
Phineas: Hi, Isabella. Come on in.
Isabella: What'cha doin'?

Phineas
: Oh, just trying to generate 40,000 cubic feet of compressed air.
Perry's entrance to his lair
He knocks on the house side of the wall and dives right in revealing a tube, which Lawrence Fletcher wonders what it is doing there. He approached too close and it sucked him into Perry's lair.
Evil Jingle
Doofenshmirtz Evil Incorporated!
Memorable Quotes
Candace
: How many times have I told you to keep Perry out of my way while I'm balancing eggs on a spoon?
Phineas: Um... never?

Candace
: Well, I would have thought it would be understood.
Candace
: Dad, those trophies are lame. Last place? Nice try?
Lawrence: Oh, come on! What about this one? First place--
Candace: It means "loser," Dad.
Lawrence: Well, that's not very nice, is it? But look on the bright side, Candace! This year we might take home one just like this! (holds three fingers to forehead) Da-ta-dah! (waves fingers)
Candace: Third place?

Lawrence
: No, winner! It's a W!
Lawrence: Ooh, I get the feeling I wasn't supposed to have seen that...
Major Monogram
: Wait a minute. You anticipated a specific situation like this?
Carl: Yep.
Major Monogram: Wow. That's a little creepy, Carl.

Carl
: Yes, Yes it Is.
Doofenshmirtz: But don't you want to know why I want to destroy the adult's diaper factory? There's a terrific back-story! (pause) You know, this is going to be a back-story too, someday!
Phineas: Ladies and girls, I give you... the Pep Squad Mobile!
Fireside Girls: Go Candace!
Major Monogram
: Uh, is that all he can say?
Carl: The kit originally came with one default phrase.
Lawrence robot: Lovely windmill, isn't it?

Carl
: Oh, those kooky Dutch!
Phineas
: Excuse me, sir, could you stand up and sit right back down?
Man: I... suppose. (does what is asked; the crowd does the wave)

Phineas
: Hey, we started a wave!
Carl
:
(shaking Perry's hand)
Nice work, Agent—
Balthazar: Aah!
(Balthazar drops his ice cream)

Carl
: Our cover's blown! We've gotta move— go go go go!
Dr. Doofenshmirtz: (quickly) Curse you Perry the Platypus even though you weren't a part of this scheme whatsoever!
Balthazar: (pointing at Perry) Hey, don't I know you from somewhere?
Major Monogram: Carl, we've gotta fire up the memory eraser again!
Background Information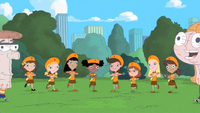 Production Information
The episode was aired first in Latin America (January 26, 2010) on Disney Channel entitled "Un Robot Maduro" ("A Mature Robot").
Alyson Stoner posted a video of her recording session for this episode and "Suddenly Suzy" on YouTube.
Two of the teams in the score table are references to Phineas and Ferb's staff:

"Melissa & Dan" is a reference to Phineas and Ferb's creator, Dan Povenmire and his daughter Melissa.
"Lynn & Zac" is a reference to this episode's director, Zac Moncrief and his daughter Lynn.
Errors
Carl built a "Perry robot" the size of Perry, but no one can operate it from the inside because it is too small, making it hard for anyone to fit inside; he should realized that before he built it. (Unless they either put an agent even smaller than Perry inside or the machine is remote-controlled.)
When Phineas was bouncing in the 360 degree fun bounce his head went through the wall at one point. (Although this may be intended because there can be wrinkles seen as Phineas jumps through, as if the wall stretched so Phineas can go through.)
When Major Monogram puts Perry into the Lawrence robot, Perry was as wide as the robot. Yet when showing the controls inside, the robot is wider.
Isabella brings every Fireside girl except Milly to help but then, Milly appears out of nowhere when the girls say "Charge!". Thus, while the girls are chanting "Bubble Gum", the new Fireside Girls appear out of nowhere, too.
Continuity
Allusions
I Was a Teenage Werewolf and I Was a Teenage Frankenstein: The episode title is likely an allusion to the pair of "I Was a Teenage..." movies released in 1957.
Jack Palance - At one point, Candace does a one-handed pushup like Jack Palance at the 1992 Acadamy Awards.
Sabre Dance - The music during the pie-eating contest is a parody of Sabre Dance by Aram Khachaturian, which is often popularly used for plate-spinning and acrobatic acts and comical depictions of said acts in fiction.
Alice in Wonderland - Lawrence says, "How peculiar" before falling down the secret entrance. This scene parallels Alice falling down the rabbit hole.
Armed Forces - Ferb blows a bosun's whistle and wears a naval uniform while doing so.
Motorsports - When Isabella says "Fireside Girls, start your pedaling!", it is an allusion to the famous saying "(Ladies and) Gentlemen, start your engines."
Sosumi - The noise the Lawrence robot makes when starting up resembles the Apple Macintosh start-up noise, "Sosumi" (so named as a tongue-in-cheek reference to various music-related litigations between Apple and the similarly-named record company founded by The Beatles).
Cast
References
v - e - d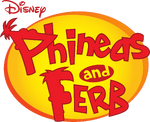 Episodes
Season One: "Rollercoaster" • "Candace Loses Her Head" • "The Fast and the Phineas" • "Lawn Gnome Beach Party of Terror" • "The Magnificent Few" • "S'Winter" • "Are You My Mummy?" • "Flop Starz" • "Raging Bully" • "Lights, Candace, Action!" • "Get That Bigfoot Outta My Face!" • "Tree to Get Ready" • "It's About Time!" • "Jerk De Soleil" • "Toy to the World" • "One Good Scare Ought to Do It!" • "A Hard Day's Knight" • "I, Brobot" • "Mom's Birthday" • "Journey to the Center of Candace" • "Run Away Runway" • "I Scream, You Scream" • "It's a Mud, Mud, Mud, Mud World" • "The Ballad of Badbeard" • "Dude, We're Getting the Band Back Together" • "Ready for the Bettys" • "The Flying Fishmonger" • "Phineas and Ferb Get Busted!" • "Greece Lightning" • "Leave the Busting to Us!" • "Crack That Whip" • "The Best Lazy Day Ever" • "Boyfriend From 27,000 B.C." • "Voyage to the Bottom of Buford" • "Put That Putter Away" • "Does This Duckbill Make Me Look Fat?" • "Traffic Cam Caper" • "Bowl-R-Ama Drama" • "The Monster of Phineas-n-Ferbenstein" • "Oil on Candace" • "Unfair Science Fair" • "Unfair Science Fair Redux (Another Story)" • "Out to Launch" • "Got Game?" • "Comet Kermillian" • "Out of Toon" • "Hail Doofania!"


Season Two: "The Lake Nose Monster" • "Interview With a Platypus" • "Tip of the Day" • "Attack of the 50 Foot Sister" • "Backyard Aquarium" • "Day of the Living Gelatin" • "Elementary My Dear Stacy" • "Don't Even Blink" • "Chez Platypus" • "Perry Lays an Egg" • "Gaming the System" • "The Chronicles of Meap" • "Thaddeus and Thor" • "De Plane! De Plane!" • "Let's Take a Quiz" • "At the Car Wash" • "Oh, There You Are, Perry" • "Swiss Family Phineas" • "Hide and Seek" • "That Sinking Feeling" • "The Baljeatles" • "Vanessassary Roughness" • "No More Bunny Business" • "Spa Day" • "Phineas and Ferb's Quantum Boogaloo" • "Phineas and Ferb Musical Cliptastic Countdown" • "Bubble Boys" • "Isabella and the Temple of Sap" • "Cheer Up Candace" • "Fireside Girl Jamboree" • "The Bully Code" • "Finding Mary McGuffin" • "Picture This" • "Nerdy Dancin'" • "What Do It Do?" • "Atlantis" • "Phineas and Ferb Christmas Vacation!" • "Just Passing Through" • "Candace's Big Day" • "I Was a Middle Aged Robot" • "Suddenly Suzy" • "Undercover Carl" • "Hip Hip Parade" • "Invasion of the Ferb Snatchers" • "Ain't No Kiddie Ride" • "Not Phineas and Ferb" • "Phineas and Ferb-Busters!" • "The Lizard Whisperer" • "Robot Rodeo" • "The Beak" • "She's the Mayor" • "The Lemonade Stand" • "Phineas and Ferb Hawaiian Vacation" • "Summer Belongs to You!" • "Nerds of a Feather" • "Wizard of Odd" • "We Call it Maze" • "Ladies and Gentlemen, Meet Max Modem!" • "The Secret of Success" • "The Doof Side of the Moon" • "Split Personality" • "Brain Drain" • "Rollercoaster: The Musical!" • "Make Play" • "Candace Gets Busted"
Season Three: "The Great Indoors" • "Canderemy" • "Run, Candace, Run" • "Last Train to Bustville" • "Phineas' Birthday Clip-O-Rama!" • "The Belly of the Beast" • "Moon Farm" • "Ask a Foolish Question" • "Misperceived Monotreme" • "Candace Disconnected" • "Magic Carpet Ride" • "Bad Hair Day" • "Meatloaf Surprise" • "Phineas and Ferb Interrupted" • "A Real Boy" • "Mommy Can You Hear Me?" • "Road Trip" • "Tour de Ferb" • "Skiddley Whiffers" • "My Fair Goalie" • "Bullseye!" • "That's the Spirit" • "The Curse of Candace" • "Escape from Phineas Tower" • "Lotsa Latkes" • "Ferb Latin" • "A Phineas and Ferb Family Christmas" • "Tri-Stone Area" • "Doof Dynasty" • "Excaliferb" • "Phineas and Ferb and the Temple of Juatchadoon" • "Monster from the Id" • "Gi-Ants" • "The Remains of the Platypus" • "Mom's in the House" • "Perry the Actorpus" • "Let's Bounce" • "Bully Bromance Break Up" • "Quietest Day Ever" • "Doonkleberry Imperative" • "Meapless in Seattle" • "Delivery of Destiny" • "Buford Confidential" • "The Mom Attractor" • "Cranius Maximus" • "Agent Doof" • "Minor Monogram" • "What a Croc!" • "Sleepwalk Surprise" • "Sci-Fi Pie Fly" • "Sipping with the Enemy" • "Tri-State Treasure: Boot of Secrets" • "Doofapus" • "Norm Unleashed" • "Where's Perry?" • "Ferb TV" • "When Worlds Collide" • "What'd I Miss?" • "Road to Danville" • "This is Your Backstory" • "Blackout!"
Season Four: "For Your Ice Only " • "Happy New Year!" • "Fly On the Wall" • "Bully Bust" • "My Sweet Ride" • "Der Kinderlumper" • "Sidetracked" • "Primal Perry" • "Mind Share" • "Backyard Hodge Podge" • "Bee Day" • "Bee Story" • "Great Balls of Water" • "Where's Pinky?" • "Phineas and Ferb Musical Cliptastic Countdown Hosted by Kelly Osbourne" • "Knot My Problem" • "Just Desserts" • "La Candace-Cabra" • "Happy Birthday, Isabella" • "Love at First Byte" • "One Good Turn" • "Mission Marvel" • "Thanks But No Thanks" • "Troy Story" • "Druselsteinoween" • "Terrifying Tri-State Trilogy of Terror" • "Face Your Fear" • "Cheers for Fears" • "Steampunx" • "Just Our Luck" • "Return Policy" • "Live and Let Drive" • "Phineas and Ferb Save Summer" • "Father's Day" • "Imperfect Storm" • "The Return of the Rogue Rabbit" • "It's No Picnic" • "The Klimpaloon Ultimatum" • "Operation Crumb Cake" • "Mandace" • "Phineas and Ferb: Star Wars" • "Lost in Danville" • "The Inator Method" • "Night of the Living Pharmacists" • "Tales from the Resistance: Back to the 2nd Dimension" • "Doof 101" • "Act Your Age" • "Last Day of Summer" • "O.W.C.A. Files"