I Don't Have A Name
Comments

0
19,094pages on
this wiki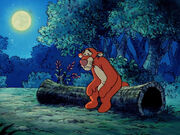 "I Don't Have A Name" is a sad song that was sung by Tigger in The New Adventures of Winnie the Pooh episode "Stripes". Tigger sings it after losing his painted stripes from the short, quick thunderstorm.
Lyrics
What is a guy
When he's a nothin'?
I'm nothin' but stuffin'.
Ain't even got a name.
I know I've changed
On the outside.
But on the inside,
I feel the same,
Maybe someday,
I'll know who I am,
But for right now, (Sniffs)
Somehow,
I don't have a name.