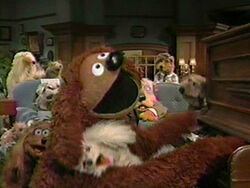 "I'm Doggin' It" is sung by Rowlf and a chorus of dogs in The Muppets at Walt Disney World.
Lyrics
Rowlf:
Well, it will take an awful lot of clouds
To rain on my parade
Lapping lemonades
Man, I got it made

I've got a brand new bone to call my own
And all the bills to pay
I'm so glad I stayed
Oh, I'm dogging it

Dogs:
Woof! Woof! Woof!

Now he don't mind if people call him lazy

Woof! Woof!

If they don't see his highway his way,
That's just crazy

Rowlf:
You know that we could just pass the day away
Just barking up a tree
It's the life for me
I'm dogging it

Dogs:
Woof! Woof! Woof!

Now when you look at that doggone man, oh, man
You say she-bop-she-bop-she-bam-she-bam
You got knack 'em and just back them in their master plan
My, my, my

Rowlf:
I got a real cool deal with lady luck
I got the creeps and smiles with just a buck
I've got the rhythm and I'm living it up
Because I'm

All:
Fine, fine, fine

Rowlf:
If you want to hear, let's make it clear
I wish you all the best
Filled with happiness
Oh, I'm dogging it

Dogs:
Woof! Woof! Woof!

He's doggin' it

Woof! Woof! Woof!

Rowlf:
Oh, I'm dogging it

Dogs:
He's dogging it

Rowlf:
And you know we could pass the day away

All:
My, my, my
Ad blocker interference detected!
Wikia is a free-to-use site that makes money from advertising. We have a modified experience for viewers using ad blockers

Wikia is not accessible if you've made further modifications. Remove the custom ad blocker rule(s) and the page will load as expected.