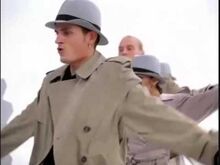 "I'll Be Your Everything" is a song by the boy band Youngstown that served as the theme for the movie Inspector Gadget. The song was written by Haim Saban, Shuki Levy, Steve Durham, Skee-Lo, Tim James and Josh Stevens and produced by the Groove Brothers.
The song had two versions, the Disney version, which incorporated words/names like "Go Go Gadget", "Gadget", and "Claw" and the album version, which has no reference to Inspector Gadget. The group had to record another version of the song, the "Disney" version because their album version had suggestive lyrics like "I'll just freak you with my gadget" where as the Disney version says "I'll just call out Go Go Gadget".
The Disney version can be heard in the movie Inspector Gadget, and the album version can be heard on Youngstown's debut album Let's Roll.
Videos
Ad blocker interference detected!
Wikia is a free-to-use site that makes money from advertising. We have a modified experience for viewers using ad blockers

Wikia is not accessible if you've made further modifications. Remove the custom ad blocker rule(s) and the page will load as expected.