Hyacinth Hippo
Comment

1
19,063pages on
this wiki
Hyacinth Hippo
Background information
Feature films
Fantasia
Who Framed Roger Rabbit (cameo)
Mickey's Magical Christmas: Snowed in at the House of Mouse
Mickey's House of Villains
Mickey's Twice Upon a Christmas
The Lion King 1½
Television programs
Bonkers (cameo)
House of Mouse
Video games
Park attractions
Fantasmic!
Twas the Night Before Christmas
Portrayed by
Tress MacNeille (Who Framed Roger Rabbit)
Portrayed by
Animators
Norman Ferguson
Voice
Performance model
Marge Champion
Designer
Inspiration
Honors and awards
Character information
Full name
Other names
Personality
Beautiful, sweet, loving, perfect, shy, cute
Appearance
Obese Hippo in a yellow tutu, and golden ballet slippers
Birthday
Occupation
Affiliations
Good
Goal
To Woo Ben Ali Gator
Home
Relatives
Pets
Allies
Her boyfriend Ben Ali Gator, Madame Upanova, Elephanchine, Mickey Mouse, Minnie Mouse, Donald Duck, Daisy Duck, Roger Rabbit, Jessica Rabbit, Eddie Valiant, Toons
Minions
Her Hippo Servants
Enemies
Gators, Judge Doom, Mortimer Mouse
Likes
Ben Ali Gator, Dancing
Dislikes
Dip
Powers and abilities
Weapons
Fate
Falls in Love with Ben Ali Gator
Quote
"Oh, excuse me."
"I feel as light as a feather."
[Source]
Hyacinth Hippo is a character from Disney's 1940 movie Fantasia.
Appearances
Edit
Hyacinth Hippo is the lead of the dancers of the daytime, and symbolizes Laura Adorno of the opera. This is deduced by the fact that she is wooed by Ben Ali Gator (who symbolises Enzo Grimaldo) and by her deep sleep, as in the opera Laura also is sent into a deep sleep.
She makes a couple of cameo appearances in the film. Her only line is "Oh, excuse me" when she passed Eddie Valiant. When she sat on a bench, it broke due to her sheer mass sending a person flying up into the atmosphere. She later has cameo appearance during the final scene with other toons.
Hyacinth made a cameo in the episode "Cartoon Cornered".
She makes cameo appearances in the series. She had a few appearances specifically in the episode "Ladies Night" where she acts as the club's temporary body guard and whenever Mortimer Mouse arrives, she jumps on him, Which is the Episode's Running Gag.
Hyacinth and her hippo friends, were part of Daisy Duck's skating act in the segment "Bells On ice".
Hyacinth was seen sitting next to Lady and Tramp during the film's final as a silhouette in the theater.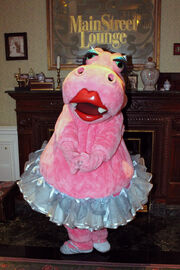 Hyacinth Hippo appears in various parades as a walkaround character. Statues of her also appear at the Disneyland Hotel's Fantasia Shop and at the Fantasia Gardens Miniature Golf course at Walt Disney World. A topiary was also created for use during the Flower and Garden Festival at Epcot.
She made an appearance in the Christmas show Twas the Night Before Christmas which was located in the Magic Kingdom but has recently been retired.
Hyacinth can be seen in the Disney Magic cruise ship's Magical Porthole.
For more pictures and screenshots of Hyacinth Hippo, click here.