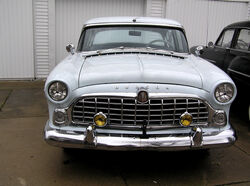 The Hudson Wasp is an automobile that was built and marketed by the Hudson Motor Car Company of Detroit, Michigan, from the 1952 through the 1956 model years. It was also assembled in Australia from complete knock down (CKD) kits. After Hudson merged with Nash Motors, the Wasp was then built by American Motors Corporation in Kenosha, Wisconsin, and marketed under its Hudson marque for model years 1955 and 1956. Although not owned by Disney, a few commercials features Disney characters (including Alice and the White Rabbit from Alice in Wonderland) promoting the Hudson Wasp of 1955.
Gallery
Ad blocker interference detected!
Wikia is a free-to-use site that makes money from advertising. We have a modified experience for viewers using ad blockers

Wikia is not accessible if you've made further modifications. Remove the custom ad blocker rule(s) and the page will load as expected.