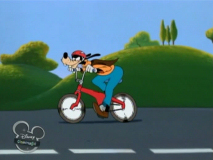 "How to Ride a Bicycle" (retitled "How to Ride a Bike" when shown on House of Mouse) is a cartoon made by Walt Disney Television Animation.
It was originally shown as part of an episode of Mickey Mouse Works on June 19, 1999.
Summary
Mr. Biker (a.k.a. Goofy) is seized with bicycle race fever... but unfortunately totals his bike. He goes through all the lessons of bike riding, ending once more in his race-fever craze and competing in a high-pressure BMX stadium race.
Gallery
Ad blocker interference detected!
Wikia is a free-to-use site that makes money from advertising. We have a modified experience for viewers using ad blockers

Wikia is not accessible if you've made further modifications. Remove the custom ad blocker rule(s) and the page will load as expected.