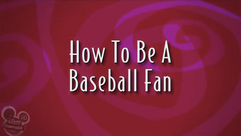 "How to Be a Baseball Fan" is an animated short starring Goofy from Mickey Mouse Works and House of Mouse.
Synopsis
Goofy takes time out from being a participant in sport to join the fans in the bleachers.
Trivia
At one scene where Goofy blows his horn when watching a baseball game, it suggests the use of censored profanity.