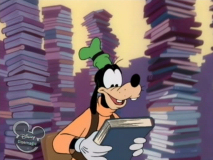 How to Be Smart is an animated short starring Goofy and featuring Ludwig Von Drake from the House of Mouse episode The Three Caballeros.
Synopsis
Goofy tries to up his intelligence quotient after being defeated on a game show called Smarty Britches by Ludwig Von Drake.
Gallery
Ad blocker interference detected!
Wikia is a free-to-use site that makes money from advertising. We have a modified experience for viewers using ad blockers

Wikia is not accessible if you've made further modifications. Remove the custom ad blocker rule(s) and the page will load as expected.