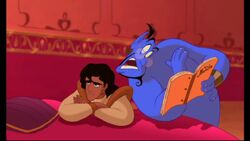 "How Quick They Forget" is a deleted song from Aladdin.
Song Lyrics
Say, you wouldn't go break up the old act would ya, pal?

After all these years, that wouldn't be real nice

Nah, you couldn't go break up the act, now could ya, pal?

Yes, he could, without so much as thinking twice - amazing!


I guess we won't swap those barbershop harmonies no more

You can't sing 'em with three, you gotta have four

And ain't it a crime, a real crying shame

Screwed up and all wet

We used to be thick

How quick they forget


Here's how it becomes a guitar, bass and drums, without a horn

That saxophone leaves, and a trio is born

Not much does it take to go out 'n' break

A nice matching set

Not much of a trick

How quick they forget


Like three blind mice

Or three on a matchstick

Three makes only three

Him plus him plus me

Makes us . . . whoopee!


Let's see, three bears

And three little kittens

Signed, sealed, said, and done

One plus one plus one

Makes what? . . . No fun


We're not what we were

Any fool would prefer

Any four-handed game

There's nothing that squares

Without two complete pairs

So it's just not the same


And I guess we ain't got no more

Of those hot old nights in store

Our future looks dull, a regular snore

And what is it for?

Why go busting up a happy quartet?

He's all out of tune

How soon they forget


Well, ain't it a sin

It's a real crying shame

Three fellas is left

One fella's to blame

Don't want it to end

Not now and not yet

It makes a guy sick

How quick they forget


Just three little pigs

Out hustling gigs from door to door

What used to be fun

Sans one is a chore

As all of that

"Put 'er there old pal

Hail-fellow-well-met"

Fades into the past

How quick they forget


He thinks he's so chic

How quick they forget

We went and broke up the clique

How quick they forget

That guy's a real yick

How quick they forget

How quick, how quick

They forget

Ad blocker interference detected!
Wikia is a free-to-use site that makes money from advertising. We have a modified experience for viewers using ad blockers

Wikia is not accessible if you've made further modifications. Remove the custom ad blocker rule(s) and the page will load as expected.