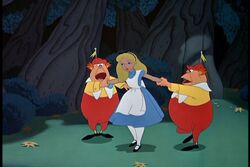 How Do You Do and Shake Hands
is a song in
Alice in Wonderland
performed primarily by the
Tweedles
.
Lyrics
How d'ye do and shake hands

Shake hands, shake hands

How d'ye do and shake hands

State your name and business!

You go through life and never know

The day when fate may bring

A situation that may prove to be embarrassing

You're face gets red

You hide your head

And wish that you could cry

But that's old fashioned

Here's a new thing you should really try

Ad blocker interference detected!
Wikia is a free-to-use site that makes money from advertising. We have a modified experience for viewers using ad blockers

Wikia is not accessible if you've made further modifications. Remove the custom ad blocker rule(s) and the page will load as expected.