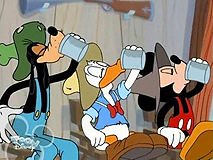 Housesitters is an animated short starring Mickey Mouse, Donald Duck and Goofy and featuring Pete from the House of Mouse episode "Pete's One-Man Show".
Synopsis
When Mickey and gang have to housesit for a farmer, they get into a fight with the neighbor's housesitter, Pete over the usage of the outhouse. It gets worse when they start having an all-out war.
Ad blocker interference detected!
Wikia is a free-to-use site that makes money from advertising. We have a modified experience for viewers using ad blockers

Wikia is not accessible if you've made further modifications. Remove the custom ad blocker rule(s) and the page will load as expected.