The
House of DeVil
is the fashion house run by
Cruella De Vil
in the
1996
live-action version of 
101 Dalmatians
,
its sequel
, and the
animated series
. It specializes in fashion using animal skins, particularly fur coats.
Employees
Alonzo (who serves as a secretary)
Frederick (whom Cruella refers to as a sycophant)
Susan (Cruella accidentally picks her desk name up, meaning to pick up Anita's so she can rehire Anita for Christmas, but offers Anita Susan's desk since she was planning to fire her, too)
Fashion Lines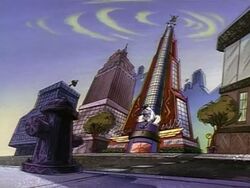 Though it isn't referred to by name, in the Disney Cruise show "Villains Tonight!", Cruella is holding a fashion project show, likely basing it on the idea of her running a fashion house.
Trivia
The Minster Court in Mincing Lane, London, is used as the exterior for the House of DeVil in 101 Dalmatians.