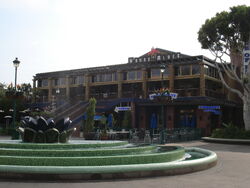 House of Blues Anaheim was a blues-themed concert venue and restaurant located at Downtown Disney at the Disneyland Resort in Anaheim, California. It opened on January 12, 2001 along with the rest of Downtown Disney, with a performance by alternative rock band Lit. The venue closed on May 29, 2016, following a concert featuring local ska and punk bands. An expanded House of Blues Anaheim is set to open on February 28, 2017, at the Anaheim GardenWalk, one block east of the Disneyland Resort, at 400 West Disney Way.
See also
Ad blocker interference detected!
Wikia is a free-to-use site that makes money from advertising. We have a modified experience for viewers using ad blockers

Wikia is not accessible if you've made further modifications. Remove the custom ad blocker rule(s) and the page will load as expected.