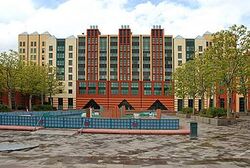 Hotel New York
is a hotel situated in
Disneyland Paris
designed by postmodern architect Michael Graves. Citing early 20th century Art Deco it was designed to echo the essence and feel of New York City. The exterior of the hotel itself is a stylised skyscraper-filled skyline. The hotel opened in
1992
, at the opening of the resort.
Activities and Dining
There are numerous references to the city's state of affairs during the 1930s, such as the Manhattan Restaurant which was based on Manhattan's Cotton Club, the displayed artwork from the 1939 World's Fair or the Rockefeller Center-based Rockefeller Plaza; a courtyard which provides a skating rink which is ecological (not needing electricity and water, synthetic ice), a flagship project of Disney to curb greenhouse gas emission. The rink is decorated during Christmas.
Roger Rabbit Corner is a infant play area inspired by Who Framed Roger Rabbit. An indoor/outdoor pool with a jacuzzi and pool toys is available. The Empire State Club is where Character breakfasts are held. Mickey Mouse, Minnie Mouse, Pluto, Goofy, and Launchpad McQuack appear every morning.
Location
Disney's Hotel New York is the nearest to Panoramagique and Disney Village.
Business
Disney's Hotel New York is the only hotel in the park that hosts business events for companies out of the Disney Empire, with annual meetings for travel companies. This is because it is the only hotel in the park that has large
Shopping
Bars