Hope
is a Middleton High School cheerleader from
Kim Possible
. 
Appearance
Hope is a dusky olivine-skinned girl with black eyes and raven-black hair. When not in her cheer uniform, she wears a pink one-piece mini with black Chinese ku-li slippers.
Abilities
As an acrobatic cheerleader, Hope has much of the same athleticism which Kim is known for. Furthermore, she may have an interest and ability in Track and Field.
Relationships
Hope is mostly seen in the company of Tara and with Bonnie Rockwaller. She went to the prom with the Track and Field captain, whose name was not mentioned.
Trivia
Her name was revealed in "Steal Wheels".
For those who have trouble telling her apart from Marcella, Hope has no mole by her lip.
Hope only had two solo speaking parts. In "Bad Boy" and "Steel Wheels"
Hope is voiced by Grey DeLisle
Gallery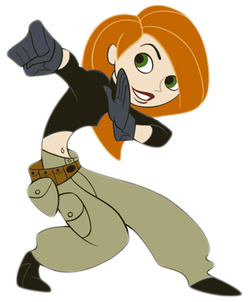 Songs:
Call Me, Beep Me!
|
Could it Be
|
Rappin' Drakken
|
Naked Mole Rap
|
Say The Word
|
Pop Pop's Mini Corn Dogs