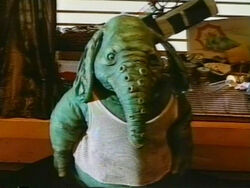 Hooter
is a diminutive green elephant-like alien who appears in the Disney 3D film/attraction
Captain EO
as one of
the title character's
sidekicks. A running gag throughout the film revolves around Hooter sneezing all the time. To top off the gag, seat misters spray the guests whenever he sneezes.
He was portrayed by Tony Cox.
Ad blocker interference detected!
Wikia is a free-to-use site that makes money from advertising. We have a modified experience for viewers using ad blockers

Wikia is not accessible if you've made further modifications. Remove the custom ad blocker rule(s) and the page will load as expected.